Today is industrial production data day. China, the euro area and the USA published their figures.
While the US and China are reporting for August, aggregate data for the euro area only came for July. Europe managed to surprise with an output increase of 1.5% for the month and adding 7.7% compared to the same month a year earlier. Without comparisons to previous periods, the index is hovering near pre-March 2020 levels, reflecting the lingering stagnation of the region's manufacturing sector. Estimates for August business activity and weak data from China suggest that this situation will continue for some time.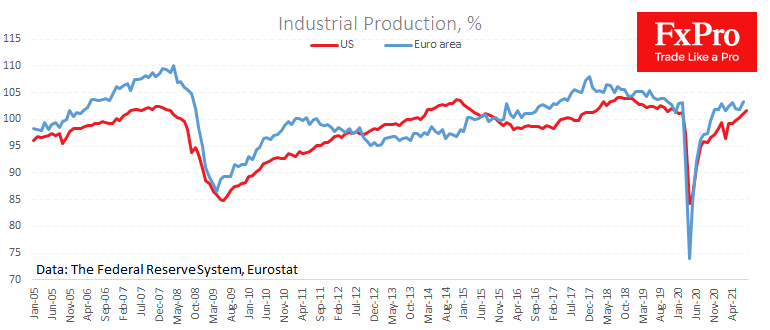 Data from China caused a nasty surprise, noting a faster-than-expected drop in growth. The current growth rate is close to that of China before the pandemic. As in Europe, we observed a return to pre-coronavirus patterns in China as a stimulus is insufficient to breathe new life into economic growth.
The US industrial production index added 0.4% in August, surpassing pre-pandemic levels. Like in Europe, it had been declining even before the recession of 2020, but unlike Europe and China, in the USA, we see an upward trend developing, triggered by the stimulus.
Fundamentally, this is good news for the US, but locally the markets are focused on the fact that good news on the economy is bad news for the markets, where the chances of an imminent start of tapering from the Fed is being mulled over.
Source: FXPro