The US private sector created 475K jobs in February, compared to 509K and 780K in the previous two months. The growth is significantly above expectations (378K) and indicates the labour market's strength, potentially clearing the way for the Fed to tighten monetary policy.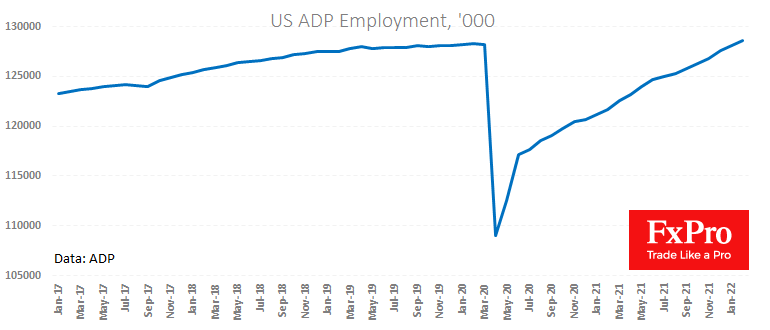 A fundamental revision of several data points is striking. Firstly, last month's value has been revised down from a contraction of 301k to an increase of 509k. Secondly, the indicator's history is revised, so the latest data points to a full employment recovery after the pandemic hit, while a month ago, the number of jobs was estimated to be more than 4M below its peak in February 2020.
On the one hand, a strong labour market will allow the Fed to tighten monetary policy more confidently and quickly. On the other hand, it strengthens the inflationary spiral while the Fed can act more cautiously with policy tightening in light of extreme market volatility.
Source: FXPro