The start of the Fed's two-day meeting gave new signs of the strength of inflationary pressures in the market, adding to speculation about a tightening of the monetary policy tone.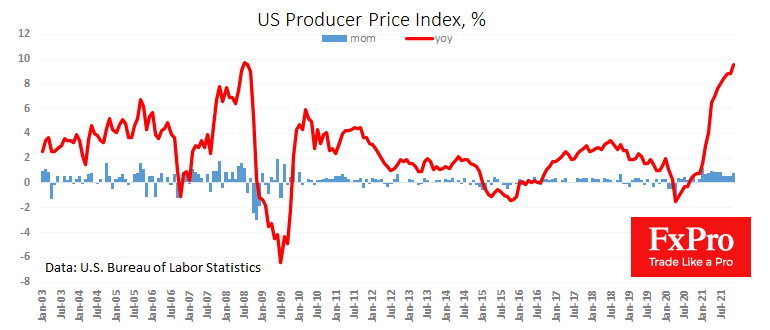 In November, the PPI index was 9.6% y/y, markedly higher than the expected 9.2% and 8.6% a month earlier. The PPI ex-energy and food accelerated to 7.7% y/y last month from 6.8% in October.
The latest data shows that inflationary pressures are no longer a problem of Oil and agriculture price spikes. It has spread across the economy, forcing the Fed to step up.
This bad news increased pressure on the US stock market before the opening of the regular session. However, it is positive news for the dollar, which managed to retreat from intraday lows against the euro, yen and franc.
The dollar index has been consolidating in a converging triangle since late November. The latest inflation data has a high chance of pushing it beyond consolidation without waiting for the official comments from the Fed tomorrow evening.
Source: FXPro