A set of statistics for Britain released earlier in the day reinforced fears that the peak of the recovery is over. Monthly estimates marked GDP growth for May at 0.8%, almost twice as weak as the average forecast of 1.5%. Manufacturing contracted by 0.1% despite expectations of 0.9% growth after stagnating in April. Construction activity fell by 0.8% after a 0.7% decline a month earlier.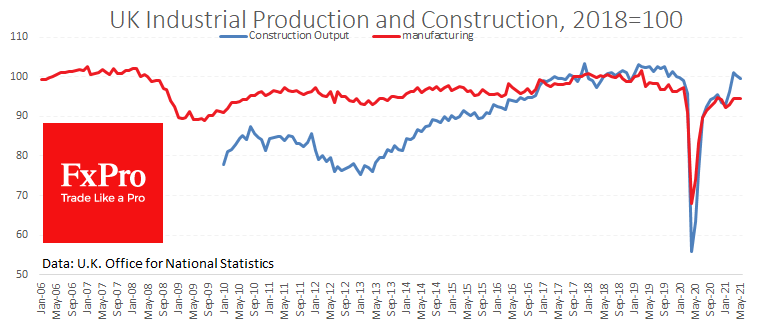 New data provides further evidence that high and rising price pressures are explained mainly by logistical problems and constraints rather than by a strong rebound in demand or output. Weak manufacturing and construction activity data can revive the spectre of stagflation (a combination of high inflation and a weak economy).
Thus, pressure on the Pound is likely to intensify in the near term as the Bank of England will have less room to combat inflation and normalise monetary policy.
The GBPUSD is currently near the lows of the past three months. The most attention should be paid to the dynamics of the Pound to 1.3660 area, near the 200-day moving average and the correction level of 61.8% from the rally from September to May passes. A sharp drop below these levels would open the way for a drop to 1.30 by the end of the year.
Source: FXPro