Following last week's central bank bonanza, this week's main event will be Tuesday's Bank of Japan meeting, even as markets wind-down towards the end of a tumultuous year:
Monday, December 19
NZD: New Zealand 4Q consumer confidence
EUR: Germany December IFO business climate
Tuesday, December 20
NZD: New Zealand November external trade, December business confidence
AUD: Reserve Bank of Australia meeting minutes
CNH: China loan prime rates
JPY: Bank of Japan rate decision
EUR: Eurozone December consumer confidence
CAD: Canada October retail sales
Nike earnings
Wednesday, December 21
NZD: New Zealand December consumer confidence
Crude: EIA weekly oil inventories
CAD: Canada November consumer price index (CPI)
USD: US December consumer confidence
Thursday, December 22
GBP: UK 3Q GDP (final)
USD: US weekly initial jobless claims; 3Q GDP
Friday, December 23
JPY: Japan November CPI, BOJ releases October meeting minutes
USD: US November PCE deflator, personal income and spending; December manufacturing activity, consumer sentiment (final)
For the upcoming BoJ meeting, markets expect policymakers to stick to its outlier position as a central bank which is not in tightening mode, keeping its policy balance rate at -0.10%.
After all, inflation in Japan is largely an imported phenomenon. While prices have picked up to the highest in three decades, wage growth hasn't.
And the economy also contracted last quarter, as the anticipated slowdown for the global economy is creating headwinds for the world's third largest economy.
Such macroeconomic conditions are likely to keep the BoJ's hand on hold.
More excitement could be on the horizon next year with BOJ Governor Haruhiko Kuroda recently opening the door to adjusting yield curve control. His term also expires in April so any sense that this policy shift is nearing could be a pivotal moment for Japan and the yen.
USDJPY to test 200-day SMA support
Notice how the 200-day simple moving average (SMA) has acted as the critical support for USDJPY for much of this month, and even at the time of writing.
This technical indicator has played a pivotal role in stemming the US dollar's declines against the Japanese Yen.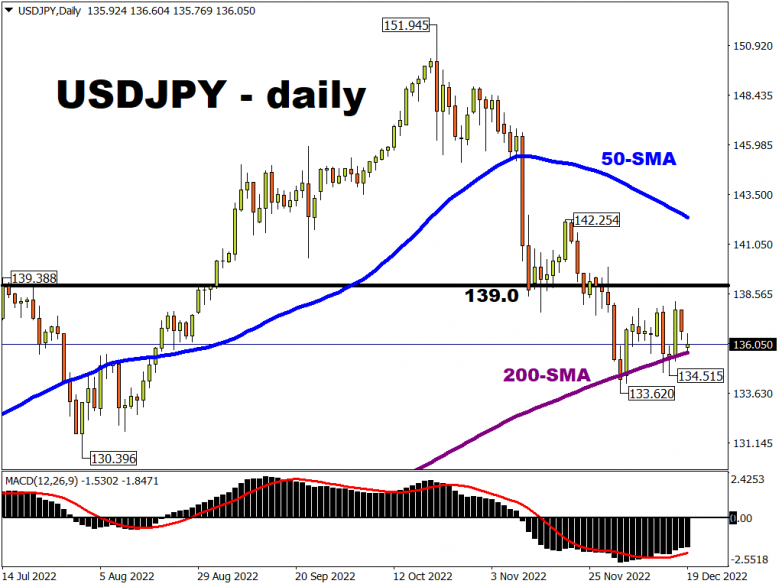 A dovish BoJ policy signal this week, coupled with the still-hawkish Fed that we heard from last week, may prompt a rebound in USDJPY.
This FX pair may revisit the 139 region, which was a key battleground between bulls and bears in the second half of November.
As things stand, markets are giving the 139 region the slight edge in terms of USDJPY's likelier port of call over the course of this week, forecasting a 21% chance of such an event. That's hardly distinguishable from the 19% chance of USDJPY touching 133 first.
We may not have to wait too long to find out where USDJPY is headed to next.
Much could depend on whether the BOJ actually conveys tomorrow any plans to exit the negative interest rates regime, and whether such a seismic shift will arrive in 2023, or later.