Dear clients,
We have significantly expanded the range of financial instruments available for analysis using the AMarkets Sentiment indicator, so it has become even more useful.
What is a Sentiment indicator?
The Sentiment indicator is a powerful analytical tool offered by AMarkets that allows you to determine the current buyer-seller ratio for the selected instrument.
The Sentiment indicator allows you to assess whether the market is overbought or oversold. For example, when the share of sellers rises above the 70% mark, it indicates that the asset is oversold and should be considered a buy signal. And vice versa.
 
Where to find the Sentiment indicator?
The sentiment indicator is available both on the AMarkets website and in your Personal area.
If you want to check the market state at this very moment, you can go to the Sentiment indicator's page and get all the information you need.
If you want to install the indicator in your trading terminal to track the changes in the buyer-seller ratio, go to the "Services – Sentiment Indicator" section of your Trader area.
You can also display the sentiment indicator and its changes for the selected instrument as a classic price chart in the MetaTrader 4 and MetaTrader 5 (MT4 and MT5) trading platforms. In this case, the Bid and Ask values will show the percentage of buyers.
New symbols in the sentiment indicator
From now on, every AMarkets trader can view the buyer-seller ratio for nine new symbols: AUD/JPY, EUR/AUD, AUD/CAD, EUR/CAD, GBP/CAD, GBP/JPY, CAD/JPY, WTI, NGAS.
A broader selection of instruments will allow you to conduct a more in-depth market analysis and make more accurate forecasts and trading decisions.
Complete list of available instruments
All AMarkets clients have free access to the Sentiment indicator and can analyze 25 trading instruments listed in the table below.
AUD/USD
BTC/USD
EUR/USD
GBP/USD
NZD/USD
USD/CAD
USD/CHF
USD/JPY

XAU/USD
XAG/USD
BRENT
WTI
NGAS
DowJones30
Nasdaq100
S&P500

AUD/CAD
AUD/JPY
CAD/JPY
EUR/AUD
EUR/CAD
EUR/GBP
EUR/JPY
GBP/CAD
GBP/JPY
How to find Sentiment indicator symbols in MT4 and MT5 trading terminals?
The Sentiment indicator symbols are available – like all other instruments – in the "Market Watch" window in the AMarkets trading terminal. If the symbols are not initially displayed in the Market Watch window, do the following:
1. In the "View" menu, click on the "Symbols" icon and open the "Sentiment Index" group;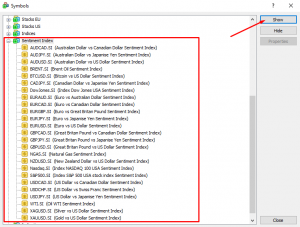 2. Activate the desired symbols: double-click on the symbol so that the icon next to it turns gold;
3. Open the "Market Watch" window and find the corresponding symbols on the list.
Please note that these symbols are unavailable for trading – they are used for analytical purposes only and allow the trader to assess the current market state.
If you have any questions or suggestions, please don't hesitate to contact AMarkets customer support.
We wish you successful trading!