The EURUSD pair rose 0.46% against the US dollar to 1.2206 on Tuesday, January 12. The 1.2130-1.2135 range acted as strong support for a rebound to 1.2220, including today's gains. Before the upturn, the price action dropped to 1.2137 amid a decline in the EURGBP cross pair, as well as statements from Angela Merkel.
The German Chancellor believes that the current lockdown could be extended for another 8-10 weeks. In her view, the country needs to halt the spread of infection so that there is no sharp increase in the number of cases by Easter.
During the North American session, the euro strengthened while the dollar depreciated. Sterling has become the key driver for the entire FX market. Cable saw heightened demand after BoE Governor Andrew Bailey denied speculation about the introduction of negative rates.
The US dollar weakened due to lower bond yields and increased demand for risk assets. The yield on 10-year Treasuries narrowed 6 bps from a 10-month high to 1.13%.
Today's macro agenda (GMT 3)
12:00 ECB President Lagarde speech
13:00 Eurozone: industrial production (November)
16:30 US: CPI (December)
18:30 US: EIA weekly petroleum status report
21:00 US: Fed Beige Book (December)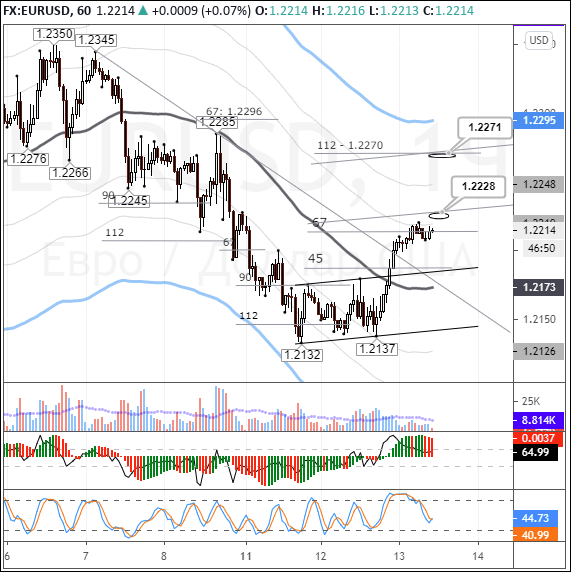 Currently outlook
The price action rose to 1.2220 in Asian trading. At the time of writing, the euro was trading at 1.2212. EURUSD climbed from a low of 1.2132 to the 67-degree angle (1.2213) as the bulls broke out of the trendline (1.22) from the top previously reached at 1.2345.
The hourly EURGBP trend chart also shows gains. If buyers can break away from 0.8920, as in the case of EURUSD, then if the price rises above 0.8945 we can expect the euro to muster a rally to 1.2270. If sterling continues to dominate the cross, growth will be limited to the 1.2228-1.2235 range. If the EURGBP cross pair strengthens while the dollar weakens, buyers will target 1.2293.