The EURUSD pair traded lower on Wednesday, January 13, down 0.40% at 1.2157. The euro saw losses right from the European opening amid ongoing gains in the British pound alongside a drop in the EURGBP pair to 0.08883. Meanwhile, the dollar moved higher on the back of declining US 10-year Treasury yields. In all likelihood, the US currency drew support from a technical correction and lockdowns.
US Treasury yields fell after Fed officials spoke out against monetary tightening anytime in the near future, even with the prospect of higher inflation going forward.
Today's macro agenda (GMT 3)
15:30 Eurozone: report on ECB monetary policy meeting
16:30 US: import prices (December) and initial weekly jobless claims
20:30 Fed Chair Powell speech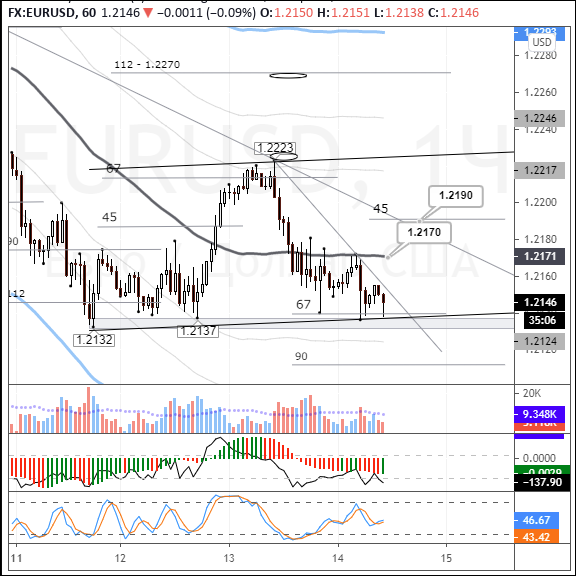 Current outlook
Major currencies have been showing multidirectional dynamics in European trading. Interestingly, the risk-sensitive aussie and the kiwi are both up about 0.2%.  Gains in these currencies imply that risk-on sentiment is making a comeback. Conversely, all euro crosses are trading in the red except for the EURJPY pair. Overall, this factor offsets risk-taking among euro buyers.
EURUSD has seen mild losses so far this morning.  The euro bears have tried several times to break through the 1.2130 support level. Given that crosses are pointing lower, we think there is a good chance that this support level will be breached. And if these attempts are successful, the decline could pick up momentum and reach 1.2111.
If the price action bounces off 1.2138, the opposite situation could occur.  The price action is close to the trendline (from the high of 1.2223), so a move up to 1.2175 and a breakout above 1.2185 would trigger the closure of short positions.  If, by this time, euro crosses revert to the upside, renewed buying could drive a short-term rally in the euro up to 1.2225.  Interim resistance levels today will be the balance line (1.2170) and the 45-degree angle at 1.2190.