The EURUSD pair traded lower on Wednesday, January 27, down 0.43%, at 1.2308. The price dropped to the level of 1.2059. The decline picked up momentum during the European session on the heels of comments from ECB Governing Council member Klaas Knot, who voiced concerns about the exchange rate. He said the ECB has the tools to counter the strengthening of the euro if needed. Knot also pointed out that the regulator has room to cut the deposit rate further, if this is required to reach its inflation target.
Losses accelerated during the American session after the ley pair broke through the trend line (1.2118). A rebound from 1.2059 was due to weak durable goods stateside. The dollar strengthened after the FOMC meeting and Fed Chair Powell's speech, with the euro retracing to 1.2093. The greenback most likely tapped into safe haven demand as US equity benchmarks surrendered over 2%. Powell said the economic "path ahead remains highly uncertain" with a resurgence in recent months of Covid-19 cases, hospitalizations and deaths.
Today's macro agenda (GMT 3)
13:00 Eurozone: industrial sentiment, economic sentiment, and consumer confidence (January)
16:30 Canada: building permits (December); US: GDP growth rate (Q4), goods trade balance (December), initial weekly jobless claims
18:00 US: new home sales (December) and CB leading index (December)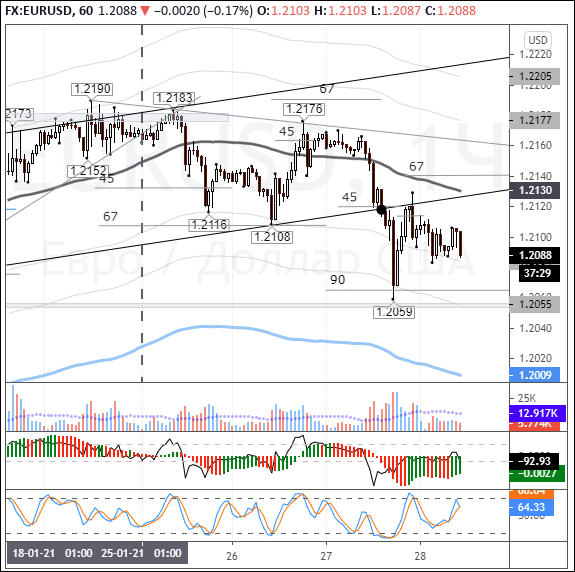 Current outlook
Verbal interventions from Christine Lagarde and Klaas Knot instantaneously triggered 10-pip sell-off in the euro. As the downtrend gained traction, buyers attempted to ditch longs as quickly as possible, mindful of the negative factors facing the single currency.
At the time of writing, the euro was changing hands at 1.2095. On Wednesday, the single currency recovered 60% vs. the downside move from 1.2176 to 1.2059. The fall was 62.8% vs. the upward move from 1.2059 to 1.2129. The pair looks set to extend corrective movement to 1.2140. This is a pretty good target level for the correction. Whether or not the euro moves higher will depend on the US Q4 GDP report due out later today.
Major currencies have been trading in the red during the Asian session. Topping the list of underperforming currencies are the aussie (-0.59%) and the kiwi (-0.44%), as risk aversion takes hold across the board. We see a risk that the price action could retrace to the 1.2059 mark.
After yesterday's big rally we expect to see the US currency hug the flatline. An upsurge in volatility can be expected right after the US GDP report comes out. If the 1.2050 level fails to hold, then we can expect to see a drop to 1.1955 by mid-February (taking into account corrections).