Virtually all major currencies traded lower on the last day of the week. The largest decline against the US dollar was seen in the Australian dollar (-0.95%). Smaller losses were shown by the Japanese yen (-0.93%), the Swiss franc (-0.55%), the Canadian dollar (-0.34%) and the euro (-0.31%). Only the British pound ( 0.12%) and the New Zealand dollar ( 0.03%) posted gains.
The EURUSD pair closed lower on Friday, January 29, up 0.10% at 1.2133. In what most market participants would have considered to be an implausible or at best an unanticipated development, support for the FX market came from the cryptocurrency market.
Tesla and SpaceX CEO Elon Musk added the hashtag #bitcoin to his Twitter bio early on Friday. As a result, Bitcoin shot up 19% to $37,990, while the euro rebounded 0.47% to 1.2156. The market drew additional support from a rally in silver.
Silver spiked 6% to $27.65 on Friday. Meanwhile, bullish retail traders on Reddit's WallStreetBets forum, who pumped up the price of US GameStop shares, piled into other assets. Silver, XRP token and Dogecoin were their targets. Since today's opening, silver has bolted up 7.64% to $29.03/oz. Since January 28, the precious metal is up 16.77%.
Bullish sentiment for the EURUSD pair remains limited due to recent comments from the ECB officials, who made it clear that market participants underestimate the central bank's ability to quell the euro's upward impetus.
Today's macro agenda (GMT 3)
11:30 to 12:30: manufacturing PMI (January) in Switzerland, France, Germany, the Eurozone, and UK
12:30 UK: money supply M4, mortgage approvals, mortgage lending (December)
13:00 Eurozone: unemployment rate (December)
17:45 US: manufacturing PMI (January), 18:00 ISM manufacturing (January)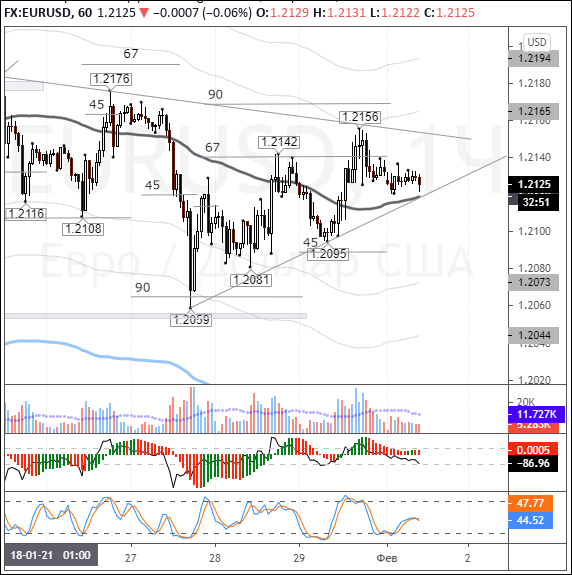 Current outlook
At the time of writing, the euro was changing hands at 1.2129. In Asian trading, the euro and the franc are hovering in the red. All other major currencies are on the rise. Topping the leaderboard is the pound sterling ( 0.38%), drawing support from a pullback in the EURGBP cross.
Trading opened today with an upward move in the dollar, but the silver pump triggered a paradigm shift in market sentiment, stoking risk appetite. After the bull run in silver, day traders have started buying into the aussie, the kiwi and cable.
On Monday, 1.2115 acts as the support level (trendline from 1.2059 and the 55-day SMA). If bullish sentiment spills over into European trading, then the key pair could recover to 1.2140. The main thing here is to monitor the euro cross dynamics, which are currently in the red. If euro crosses do not rebound, the single currency will keep trading sideways in the vicinity of 1.2120, or else retreat to Friday's low of 1.2095.