The EURUSD pair moved higher on Wednesday, February 24, up 0.10% to 1.2162. The euro traded for several hours in the range of 1.2142-1.2170, from which it retraced to the intraday low at 1.2109. The sharp drop in the key pair tracked 10-year US Treasury yields that rallied to 1.43%.
Buyers quickly bought into the weaker euro as bond yields fell to 1.37% after retracing to a recent high. The price action recovered from 1.2109 to 1.2175. The rapid recovery drew support from gains in the EURGBP pair.
US Federal Reserve Chairman Jerome Powell reiterated on Wednesday that US interest rates will remain low for an extended period as the Central Bank continues to buy bonds to support the American economy. Fed officials Lael Brainard and Richard Clarida stressed the regulator's willingness to remain flexible.
Today's macro agenda (GMT 3)
16:30 US: Q4 GDP, durable goods orders, and initial weekly jobless claims
18:00 US: pending home sales (January)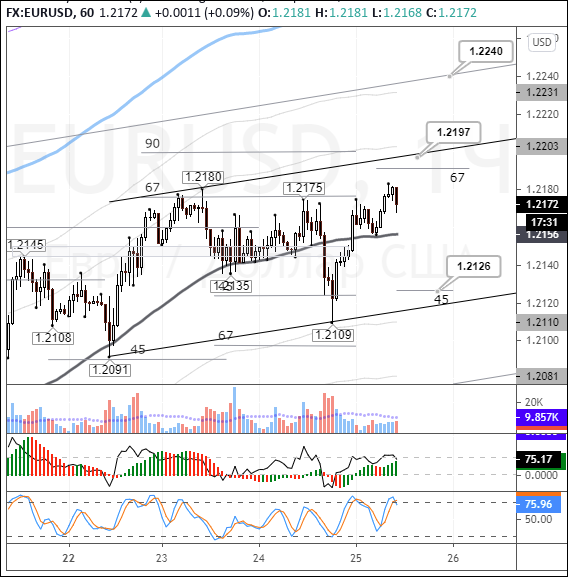 Current outlook
In Asia, major currencies are trading in positive territory, except for the Japanese yen, with risk appetite on the rise. At the time of writing, the euro was trading at 1.2183 as buyers retraced to highs seen on February 23 and 24.
Overall, sentiment of FX traders and investors towards the US dollar is negative. As regards the key macro data, we advise players to watch for durable goods and initial applications jobless claims.
The EURGBP cross recovered 77 pips to 0.8616. If the pair's recovery picks up momentum after a protracted decline, legs up to 1.2197 and 1.2240 could be in the cards for EURUSD. The European currency should be expected to appreciate against the US dollar during the North American session.