All major currencies closed the week lower against the US dollar. The largest decline was shown by the Australian dollar (-2.04%). Smaller losses were recorded by the Swiss franc (-1.42%), the Japanese yen (-1.04%), the Canadian dollar (-1.02%), the New Zealand dollar (-0.87%), sterling (-0.54 %) and euro (-0.37%).
The EURUSD pair traded to the downside on Friday, February 26, shedding 0.8% to 1.2070. On Thursday, the dollar locked in gains amid a rally in 10-year US Treasury yields (US10Y). On Friday, the dollar saw the price action rise as yields declined. After retracing to a weekly high, the 10-year yield fell 6.98% to 1.419%.
There is no stable correlation between US10Y and DXY. It can be either negative or positive. When the yield on government bonds exceeded the S&P 500 dividend yield, investors started to pull out of equities. This means that the correlation acts as a trigger for exiting positions in high-risk assets. Thus, FX market participants have drawn attention to the fact that the Fed underestimates growth in inflation and could move to tighten monetary policy earlier than expected.
On Friday, market participants brushed aside US10Y dynamics and recalibrated their positions before the end of the month.
Today's macro agenda (GMT 3)
11:15 to 12:30 manufacturing PMIs (February) in Spain, Italy, France, Germany, Eurozone, and UK
16:00 Germany: CPI (February)
16:30 Canada: current account (Q4)
17:00 US: FOMC John Williams speech
17:05 US: FOMC Lael Brainard speech  
17:45 US: manufacturing PMI (February); 18:00 ISM manufacturing (February)
19:10 EU: ECB president Christine Lagarde speech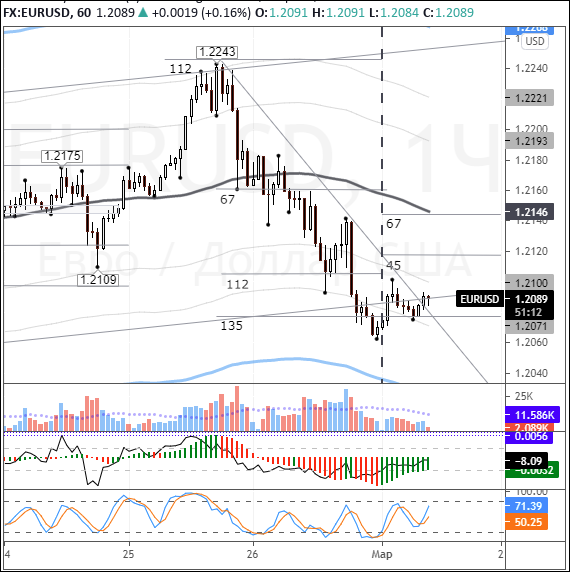 Current outlook
On Monday morning, major currencies have been trading in positive territory, except for the Japanese yen. Topping today's FX leaderboard are the kiwi and the aussie (each up by an average 0.6%). The Australian currency headed north in response to the RBA's policy action. The central bank has been aggressively buying up long-term Australian government bonds to keep yields in check.
On Saturday, the US House of Representatives approved a $ 1.9 trln coronavirus relief package. This is positive news for the markets since Americans can be expected to channel some of these funds into investments.
Oil prices are up almost 2% amid rising tensions over Iran. Oil dynamics are having an impact on commodity currencies. Gold also moved higher. If pressure on the dollar mounts, the EURUSD pair could recover to 1.2145 (67-degree angle).
The euro is currently trading at 1.2086. The strengthening of the euro is being impeded by three crosses: EURCAD, EURAUD and EURNZD. As long as the single currency is under pressure and trades near Friday's low, the risk of a slide below 1.2060 remains. The ideal scenario for Monday would be a leg up to 1.2150 against Friday's drop.