The EURUSD pair traded lower on Monday, March 1, down 0.18% to 1.2048 as buyers were unable to regain the initiative. In early trading, euro crosses came under pressure from the Australian dollar, the New Zealand dollar, the Canadian dollar and sterling. The aussie saw the steepest gains against the US dollar as the RBA spent double the usual amount on long-dated bonds in a regular operation.
After the EURGBP cross fell to 0.8620, the single currency slipped to 1.2028. When the euro corrected against sterling to 0.8661, the euro stopped weakening against the dollar. During the North American session, the EURUSD pair was trading in the range of 1.2027-1.2068.
Today's macro agenda (GMT 3)
16:30 Canada: GDP (December)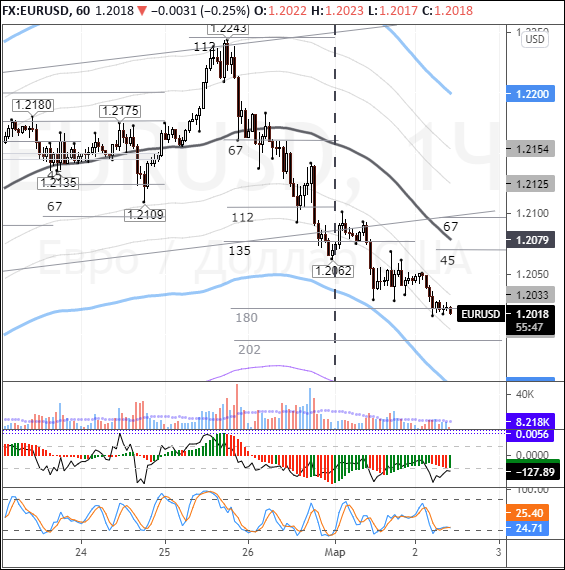 Current outlook
The euro fell to 1.2015 in  Asian trading this morning, with all major currencies trading in the red. By the close of yesterday's session, US stock indices ended in positive territory. There are no signs of panic trading on the stock market. Even though the 10-year US Treasury yields stands at 1.42%, investors are still concerned about rising inflation stateside, and are apparently waiting for a speech by Fed Chairman Jerome Powell, which is scheduled for Thursday.
Monday saw a great news flow for the euro bulls to win back Friday's losses. After breaking through 1.2088, downside risks to the level of 1.1880 are on the rise. The interim support will be at 1.1990. If the bears consolidate below 1.1880, they will set their sights on 1.1660. After Powell's speech, traders will shift their attention to Friday's non-farm payrolls report. Right now, three indicators are important for the Fed: GDP, the labor market and average inflation.