The EURUSD pair logged gains on Tuesday, March 9, closing 0.45% higher at 1.1900. The active phase of upward momentum came during the European trading session. The dollar index retreated from recent highs due to a pullback in US sovereign bond yields as the 10-year yield dipped to 1.523%. EURUSD saw gains halted due to another upturn in yields. A downward correction against daily growth broke out at the 67-degree angle.
Today's macro agenda (GMT 3)
16:30 US: CPI (February)
18:00 Canada: BoC interest rate decision
18:30 EIA weekly petroleum status report
22:00 US: budget execution report (February)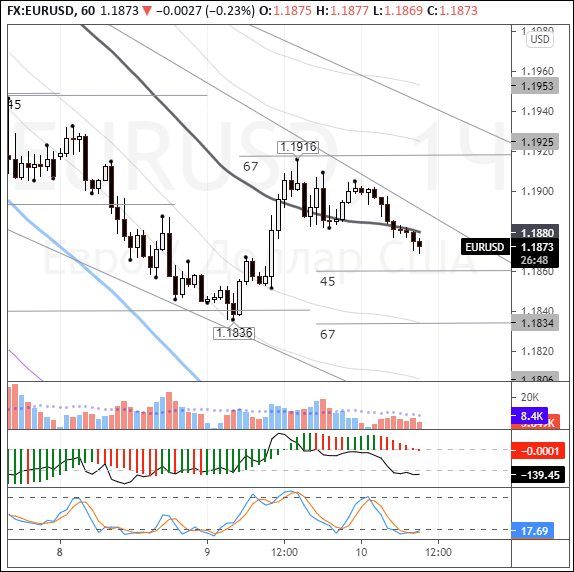 Current outlook
The news flow was thin on Tuesday, so UST yield dynamics acted as a driver for moves in the FX and equity markets. In Asian trading, treasury yields climbed 0.68% to 1.542%. Major currencies are trading in the red against the greenback. Topping the list of today's underperforming currencies are the Australian dollar (-0.52%) and New Zealand dollar (-0.50%).
The euro is trading near the balance line of the lower bound at 1.1880. The risk of a pullback to the 45-degree angle of 1.1860 has increased due to a rise in bond yields. If the EURGBP cross switches over to the sell side, then we should expect a decline to 1.1834. That said, hourly indicators (CCI, the Stochastic Oscillator, AO and AC) point to a reversal to the upside. The price action shows a 50% correction from yesterday's gains. And while buyers are theoretically prepared for another leg higher, UST yields are impeding upward movement.
If, during European trading, the yield on 10-year Treasury yield retraces to 1.52, then we should expect a resumption of gains in the EURUSD pair. In our view, 1.1935 can be chosen as a target. As regards market-moving news, we would like to highlight the February CPI report, since this is a key data point both for the Fed and the FX market.