Nearly all major currencies closed the week higher against the US dollar. The best performance was delivered by the Canadian dollar ( 1.42%). Smaller gains were seen in the Australian dollar ( 1.02%), the British pound ( 0.58%), the euro ( 0.36%), the New Zealand dollar ( 0.23%), and the Swiss franc ( 0.08%). Only the Japanese yen fell against the dollar (-0.61%).
Trading in the EURUSD pair ended in decline on Friday, down 0.28% to 1.1950. The price action slipped to 1.1910 amid a new spike in US 10-year bond (US10Y) yields to 1.637%. As soon as the yield reverted to a correction, the euro bounced back to 1.1961. The sharp rebound was due to a sharp rise in the EURGBP pair. 
Today's macro agenda (GMT 3)
15:15 Canada: housing starts (February); 15:30: manufacturing sales (January). US: NY Empire state manufacturing index (January).
23:00 US: foreign bond investment (January)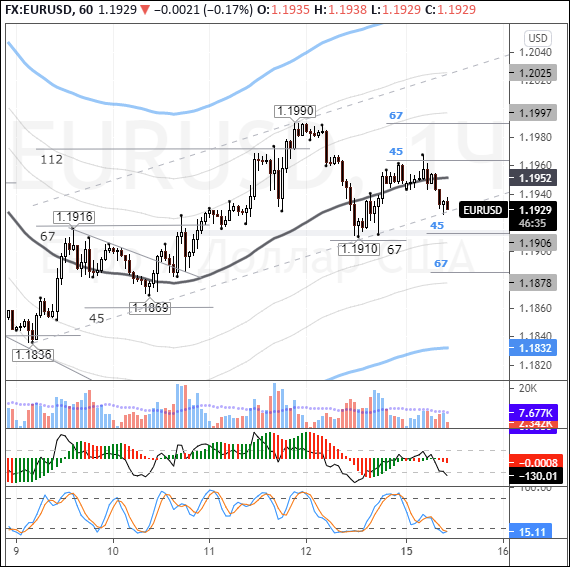 Current outlook
The dollar index opened Asian trading with a decline amid falling US10Y yields. Major currencies came under pressure again as the US currency rebounded from 1.625% to 1.637%. Janet Yellen claimed on Friday that inflation is under control stateside, while risk of a strong acceleration of inflation is marginal. Investors do not buy into the official narrative, so heightened sensitivity to US10Y dynamics can be expected to persist.
The euro exchange rate fell from a high of 1.1967 to 1.1926 as the price action dropped below the balance line (55 SMA) and has reached the trendline from the 1.1836 low. This is an exciting moment for buyers, given that UST yields are not decreasing. Since today's economic calendar looks thin again today, US10Y dynamics will be the main driver for all markets.
Traders and investors remain focused on the upcoming FOMC meeting and the press conference to be held by Fed Chairman Jerome Powell. We believe that the yields issue will be placed on the back burner, since it does not pose any threat for the time being. Stock markets are no longer reacting to it. Powell made it clear that the Central Bank's monetary policy will remain soft and no revision is in the pipeline. He expects a surge in inflation, but is confident that it will not derail the regulator's plans. So, first of all we need to hear from Central Bank heads that "inflation is raising concern." Only then can bond yields be tracked.
Support is currently at 1.1913. If yields continue to rise rapidly, the euro will fall to the 67-degree angle at 1.1885. If yields retreat and enter a correctional phase in European trading, then we expect EURUSD to muster a recovery to 1.1960.