The EURUSD pair ended lower on Wednesday, March 17, with a decline in the dollar index. The euro rose 0.64% against the US dollar to 1.1978. The price action was in the range of 1.1886-1.1917 before the press conference of Federal Reserve Chairman Jerome Powell. After his speech, the greenback retreated sharply across the board, with the euro strengthening to 1.1985.
The FOMC left the federal funds rate unchanged in the range of 0-0.25%. Asset purchases of Treasury securities and mortgage-backed securities remained unchanged at a pace of $80 bln and $40 bln per month, respectively.
Powell said that the Fed will support the economy for as long as necessary and will use its full range of tools to stimulate growth (i.e. the money printing press will remain fired up and ready to go). The regulator expects a transient rise in inflation of more than 2% this year. In 2021, US GDP will expand by 6.5%, but will subside in subsequent years. The reading was revised upwardly from an earlier 4.2%. Forecasts for 2022 and 2023 predict GDP growth of 3.3% and 2.2%, respectively.
Today's macro agenda (GMT 3)
14:00 ECB President Christine Lagarde speech
15:00 UK: BoE rate decision and asset purchases
15:30 Canada: new housing price index; US: Philadelphia Fed manufacturing index (March) and initial jobless claims 
17:00 US: CB leading index (February)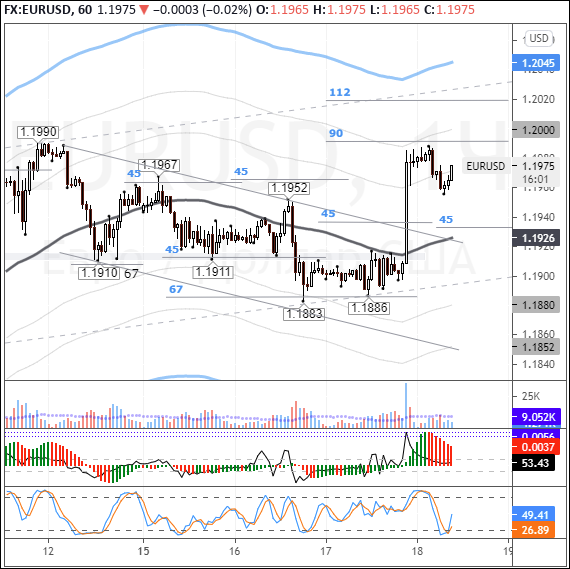 Current outlook
At the time of writing, the euro was trading at 1.1975. Virtually all major currencies have entered positive territory. Topping the leaderboard are the Australian dollar ( 0.53%) and the New Zealand dollar ( 0.27%). The aussie is today's main growth engine for the FX market, moving higher against the dollar on the back of strong labor market data out of Australia.
Stateside, 10-year US Treasury yields retreated to 1.667%. Investors continue to sell bonds, investing in stocks and cryptocurrencies as a hedge against inflation. If market participants continue to brush aside rising yields after the FOMC meeting, the downward correction in the dollar will gain momentum.
All eyes today will be on a speech by ECB President Christine Lagarde, as well as a BoE meeting. If Lagarde does not talk down the euro during her speech, buyers will push the price action up to 1.2020 (112-degree angle). Buyers need to take the 1.1990 level (March 11 high). A move above 1.20 would give buyers the stamina for a retracement to 1.2100.