The EURUSD pair traded lower on Thursday, March 18, down 0.53 to 1.1914. Buyers pared all gains after the FOMC meeting and Jerome Powell's speech on Wednesday. The euro weakened mainly due to a spike in the US10Y yield to 1.753%.
Investors do not buy into the Fed's narrative that monetary policy will not be tightened in the face of rising inflation. The epidemiological environment in Europe remains tense as lockdowns could persist in many countries until mid-April. European Commission President Ursula von der Leyen said the level of Covid-19 infection has deteriorated in Europe. She also noted that this is due to a decline in vaccination rates.   
Today's macro agenda (GMT 3)
15:30 Canada: retail trade (January)
21:00 US: Baker Hughes weekly oil rig count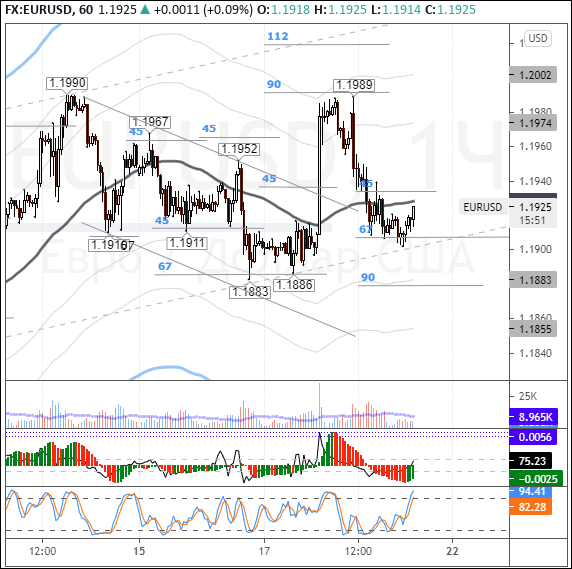 Current outlook
At the time of writing, the euro was trading at 1.1920. The US10Y yield fell to 1.699 (-1.13%). The New Zealand dollar, the euro, the yen and the franc all logged mild gains on the back of this downtick. For the recovery to pick up momentum, the US10Y yield needs to drop below 1.67%.
The euro bounced off the trendline that runs through the lows of 1.1836 and 1.1886. In case of a further decline in US10Y yields, the bulls will have a great chance to push the price action back to the 45-degree angle at 1.1956. Support traverses the 1.1880 level. If there is a new wave of euro selling and the pair slips below 1.1880, the bears will take a shot at 1.1835.
With the economic calendar looking razor-thin on Friday, all eyes will be on the dynamics of US and European bonds.