The EURUSD pair logged losses on Friday, March 19, down 0.11% to 1.1901. The single currency rose to 1.1937 after the European open amid retreating 10-year UST yields. However, when the US10Y rebounded from 1.671% to 1.74%, the euro sank to a low of 1.1884. There was no market-moving news, so the North American fixed income market exerted a powerful impact on the FX market.
Yields spiked higher during the North American session after the Fed declined to extend the SLR exemption, a rule adopted at the onset of the pandemic that allowed banks to exclude Treasurys and deposits from the calculation of the leverage ratio. Market participants believed that banks would continue to bail out of bonds. Yields experienced a correction before the close and the euro bounced back to 1.1912.
Today's macro agenda (GMT 3)
12:00 Eurozone: ECB trade balance (January)
14:00 Germany: Bundesbank monthly report
15:00 US: Fed Jerome Powell speech
17:00 US: existing home sales (February)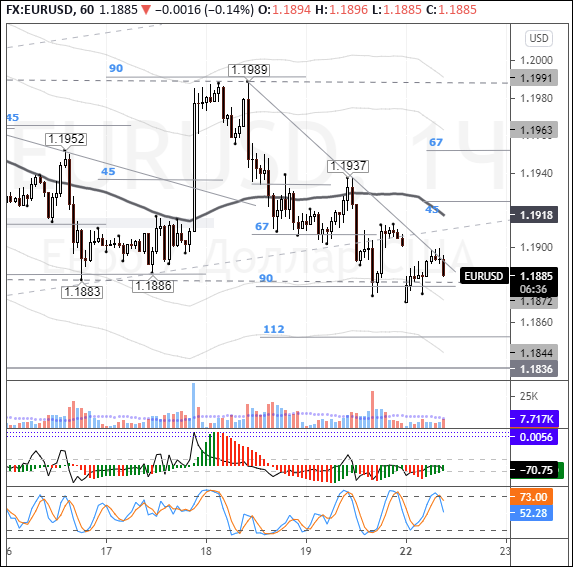 Current outlook
The US dollar opened higher in FX trading on Monday, March 22. News that Turkish President Erdogan sacked the head of the country's Central Bank after a rate hike may have dragged down the whole market. In the upshot, the Turkish lira crashed 15.5% to 8.28 against the US dollar. The European Commission announced the third wave of coronavirus, while German Chancellor Angela Merkel proposed to extend the country's lockdown until April 18.
Buyers pared all losses amid a decline in 10-year UST yield to 1.67%. This is perhaps the most positive news of the morning for the FX market, as investors and traders have been monitoring UST dynamics for two weeks. The situation on the US debt market is stabilizing, as a result of which tension on the FX market is also easing.
Fed Chairman Jerome Powell is scheduled to speak on Monday, Tuesday and Wednesday. He has already said everything about the Central Bank's monetary policy in his previous speeches, so his remarks are not likely to have a strong impact on the dollar.
Heightened market volatility can be expected on Wednesday during the release of US macro data (durable goods orders and manufacturing PMI), as well as a speech by ECB President Christine Lagarde at 15:40 GMT.
Resistance is between the 1.1910 and 1.1915 levels for the euro bulls. The 45-degree angle passes through 1.1925. Closing the day above 1.1915 would boost buying sentiment. The outlook is mixed for euro crosses, so there is a strong likelihood that a side trend will prevail on Monday.