Major currencies closed lower against the US dollar at the end of last week. The steepest decline was see in the New Zealand dollar (-2.26%). Smaller losses were recorded by the Australian dollar (-1.24%), the Swiss franc (-1.14%), the euro (-0.91%), the Japanese yen (-0.75%), the Canadian dollar (-0.54%), and the British pound (-0.56%).
The EURUSD pair rose 0.25% to 1.1793 on Friday, March 26. The euro turned north during the Asian session. In European trading, major currencies remained on an upward trajectory, except for the Swiss franc and the Japanese yen. The euro drew support from German macro data as all three IFO indices surpassed expectations as well as the previous readings.
The euro came under pressure from the third wave of coronavirus across Europe, so it gained less than sterling against the US currency. The GBPUSD pair climbed to 1.3812 on the back of cross support.
Today's macro agenda
11:30 UK: M4 money supply, mortgage approval and mortgage lending (February)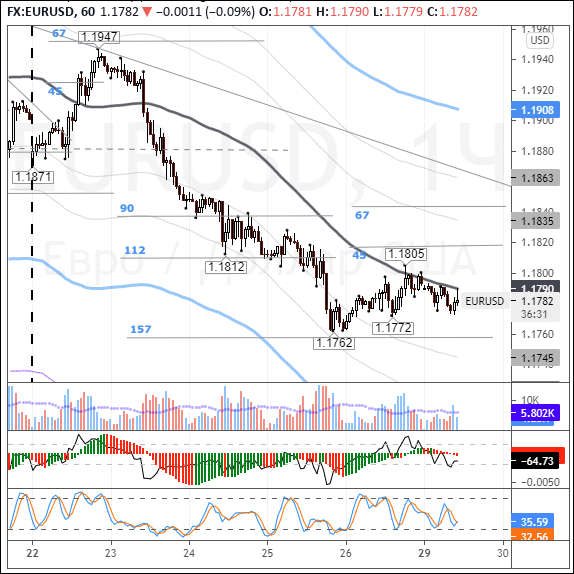 Current outlook
In Asian trading, major currencies are correcting after Friday's rally. The currencies that strengthened more on Friday are today's top underperformers. The euro slipped to 1.1774. Given that Monday's macro agenda is thin, the sideways trend may continue until tomorrow.
The euro remains under pressure due to the lockdowns. The EURGBP cross fell sharply on Thursday and formed a price pattern for Friday that resulted in a sharp upward correction to 0.8600. In the absence of news about new lockdowns, the euro will most likely enter a correction.
EURGBP buyers face a major challenge today. As long as the euro strengthens, they need to retrace to the previous high of 0.8562. This would allow the key pair to reach 1.18 and hold the 1.1762 level (Thursday's low). That said, in order to accelerate gains, strength is needed in the antipodean currencies, which are a bellwether for risk appetite. A breakout at 1.18 would pave the way towards the 1.1855 level.