The EURUSD pair rose 0.19% to 1.2189 on Monday, June 7. The news flow was thin, so the 10YUST yield was the key driver for the FX market. Macro data out of Germany at the European opening did not exert a tangible impact on the market. The price action dropped from 1.2202 to 1.2189 by the close.
Today's macro agenda (GMT 3)
12:00 Germany and Eurozone: ZEW economic sentiment index (June); Eurozone GDP and employment change (Q1)
15:30 Canada and US: trade balance (April)
17:00 US: JOLTs job openings (April)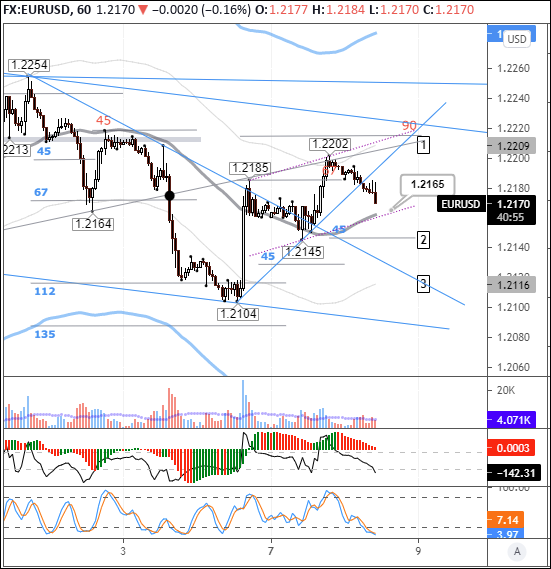 Current outlook
In Asian trading, the euro continued its descent down to 1.2176. Major currencies are all trading in negative territory. At the time of writing, the euro was trading at 1.2170.
Germany's industrial production in April decreased by 1% (vs. 0.5% expected). The euro reacted sluggishly to this data point, while EURGBP brushed off the reading entirely.
Moving forward, we note first of all that the 10Y Treasury yield has narrowed to 1.552%, dragging the dollar lower with it. The situation should be the other way around. If today's macro releases do not let down speculatively-minded day traders, we can expect the euro to strengthen against the greenback and sterling. A good buying point would be 1.2165. It is supported by the 55-day SMA. If that point fails to hold, and the bears push the price below 1.2160, the euro will remain under pressure until ECB Christine Lagarde's press conference.
In addition to German macro, FX players are looking ahead to US inflation data and the ECB meeting on Thursday. Lagarde's press conference carries downside risks. We don't think there is much for her to add to her statement at the previous meeting. The price action does not show that buyers are overly concerned about her speech. We are waiting for a correction to 1.2165. An upward move with a target of 1.2222 can be seen from the correction. If the bears fail to hold that mark, their attention could shift to 1.2250.
Bottom line: the euro closed slightly higher on Monday. In Tuesday's Asian trading, the bulls surrendered part of their profits in a corrective move. Day traders brushed off a decline in the 10-year Treasury yield. The correction could move down to 1.2165. An upward move with a target of 1.2222 can be seen from the correction. Before buying, players should look at the EURGBP cross pair dynamics. The cross should also signal the strengthening of the euro against sterling. Do not rush in to buy on the falling cross, as the correction will intensify.