The EURUSD pair closed 0.74% lower at 1.1905 on Thursday, June 17. The greenback continued to firm sharply against major currencies in the aftermath of the FOMC meeting. The regulator's dot plot called for two rate hikes in 2023, opening the door for interest rate hikes in H2 2023. The key pair sank to a 2-month low of 1.1892, where selling subsided.
Today's macro agenda (GMT 3)
11:00 Eurozone: balance of payment (April)
20:00 US: Baker Hughes weekly O&G rig count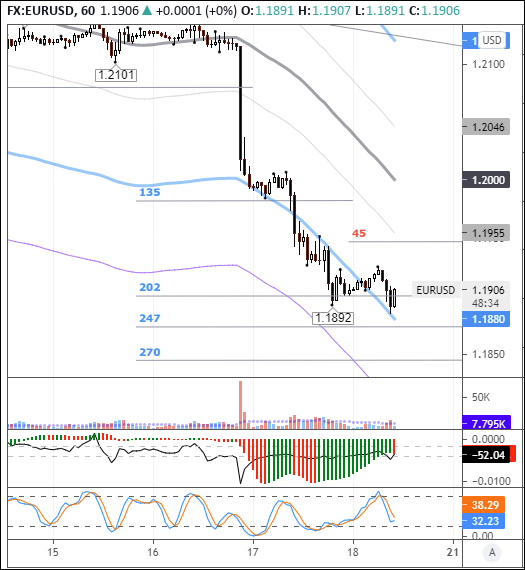 Current outlook:
The price action has entered a corrective phase in the range of 1.1890-1.1930. The decline picked up momentum ahead of the European opening. At the time of writing, the euro was trading at 1.1887.
Major currencies are trading in the red, with the exception of the Japanese yen. FX players are markedly showing signs of risk aversion. One advantage for the euro is that its allies (crosses) reveal a buy-side bias, providing them with liquidity. Also noteworthy is the multidirectional dynamics of the DXY in relation to the US10Y. The yield fell to 1.469% on Thursday, erasing Wednesday's gains. Many market participants are simply at a loss in the current environment.
Investors do not know what to expect from 2Q economic indicators and what the Fed's revamped narrative will be going forward. Fed Chair Powell did his best to smooth over the rough spots, but was unable to regain his confidence.
The DXY rose from 90.50 to 91.99 ( 1.65%). On the daily TF, the euro broke through the trendline (L1.0638 - L1.1704), but is hovering close to it to muster a false breakout. Without a rebound, the euro bears will drive the price down to 1.1765 (support: L1.1603 - L1.1704). The economic calendar is a blank slate today. And while many are looking for a correction in the dollar, with the weekend coming up and a decline in US10Y yield (currently at 1.50%), there is a strong likelihood that the greenback will stage a rebound. The EURGBP cross showed a false breakdown at the 0.8565 support level. Most likely, selling pressure on the euro will ease heading into the North American session.