The major story in FX space is the continuing collapse of the Japanese yen.
USD/JPY has surged from 127 to 133 in the matter of a few weeks. JPY is currently down over 13.7% against the dollar this year.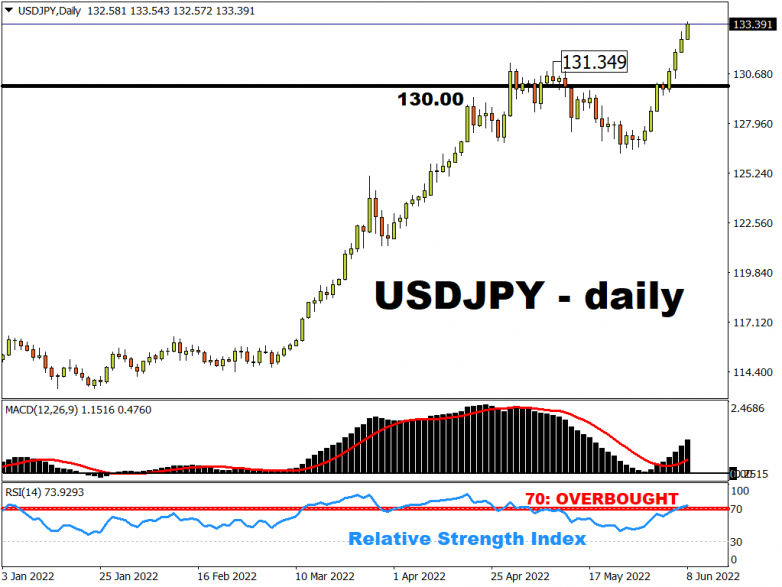 This compares with the next worst performing G20 currencies, the Norwegian Krone, British Pound, and Swedish Krona, which have respectively depreciated by over 7% versus the dollar so far in 2022.
As Japan has spent the year doubling down on its efforts to fight deflation, so the rest of the world has declared war on inflation. Other major central banks are trying to raise interest rates as fast as they can, "front-loading" rate hikes to stem rising and elevated inflationary pressures. This has pushed their government bond yields up to new cycle highs.
Inevitably, it has led to the collapse in the yen, with multi-decade lows versus the greenback.
US Treasury yields yet to make new cycle highs
Interestingly, the widely followed US 10-year Treasury yield, unlike most of its peers, has yet to post a new multi-year high. If it does so, the pressure on the yen will be intense.
Will this force the authorities in Japan to intervene? Or even for the Bank of Japan to back down from its yield-capping policy?
Remember it is the Ministry of Finance who actually carries out this process, and not the Bank of Japan. Indeed, we note that the central bankers generally view a weak yen as mainly positive for the economy.
The history books show us that unilateral Ministry of Finance intervention has only taken place on seven occasions since the early 1970s. Those accounts also tell us that intervention rarely works.
On the other hand, joint intervention is more successful, for example when the G7 helped out in March 2011 during the Fukushima crisis. But a "strong dollar" policy has perhaps never been more desired by US officials in the last few decades, given where US inflation currently sits.
GBP/JPY nears recent April highs
Pick any JPY pair and most have made multi-year highs with the major leading those gains.
But GBP/JPY has been the relative laggard, as it has yet to make gains above the recent top made in April.
That said, the pair is on its eleventh straight day of straight wins.
The April spike high is 168.426 and there is resistance just below here. Upside targets above include the January 2014 high at 174.84.
Support is this year's March high at 164.634.