Just when you think you might have a handle on these markets, along comes some price action which blows a lot of thinking (and positions) out of the water.
This action and volatility could rollover into the new trading week as investors brace for more key economic data and events due the days ahead:
Monday, July 11
JPY: Bank of Japan Governor Haruhiko Kuroda speech
NOK: Norway June CPI
Natural Gas: Nord Stream 1 gas pipeline undergoes maintenance through July 21
Tuesday, July 12
AUD: Australia July consumer and business confidence
EUR: Germany July ZEW survey expectations
GBP: BOE Governor Andrew Bailey speech
Wednesday, July 13
NZD: RBNZ rate decision
GBP: UK May GDP, industrial production, external trade
USD: US June CPI, Fed Beige Book
CAD: Bank of Canada rate decision
Thursday, July 14
AUD: Australia June unemployment, July consumer inflation expectations
USD: US weekly jobless claims
Friday, July 15
CNH: China Q2 GDP, June industrial production, retail sales
USD: US June retail sales, industrial production, July consumer sentiment, Atlanta Fed President Raphael Bostic speech
Last week, the dollar rose over 2% as the upside pressure over the last couple of weeks proved too much. Concerns that the global economy is sleepwalking into a recession as interest rates are front-loaded and poised to go higher have been pushing nervy investors into the safety of the world's reserve currency. The escalating European gas crisis also hit the single currency.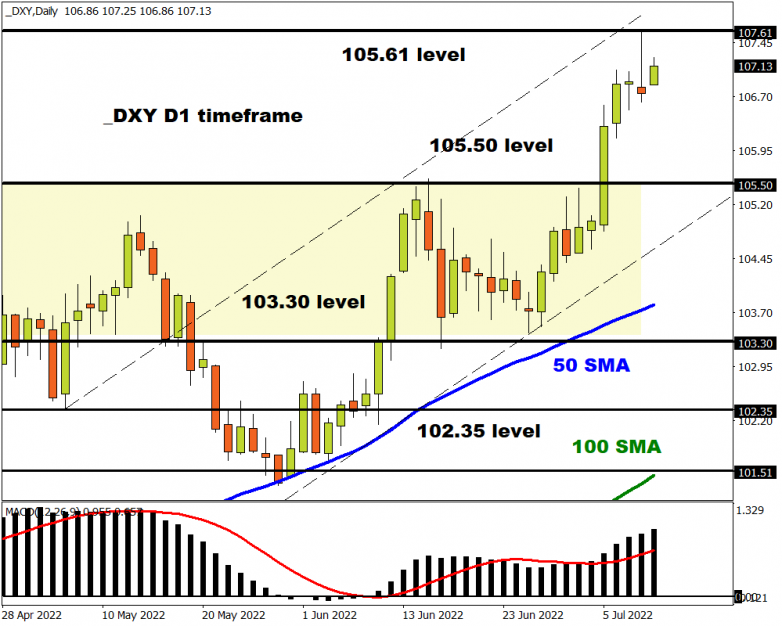 Friday's hot jobs report bolstered the chances of another 75bp rate hike at the Fed's next meeting in a few weeks. The tight labour market along with inflation set to run more than four times the 2% target will underpin support for the greenback. Indeed, US CPI is probably the single most important data release on the calendar. Energy, food and housing are expected to all contribute to higher prices, with the annual rate moving up to 8.9% from 8.6%. Core CPI is forecast to see another 0.6% m/m increase, taking the annual rate down slightly below 6%.
High inflation readings should continue to weigh on sentiment and also consumer confidence. The latter is forecast to be seen in the University of Michigan survey, one cited by Fed Chair Powell no less, which is set to remain at a low level. Falling stock markets and the rising cos of living are hurting.
Two central bank meetings should continue the rate hiking narrative with the Bank of Canada set to raise rates by 75bps to 2.25% after May's inflation saw a major upside surprise. Guidance is expected to be hawkish too with larger moves hopefully taming domestic demand and bringing down inflation. The economy is growing strongly with record employment levels and a red-hot housing market. That said, Canada's robust commodity background should mean it is far more resilient than most other major economies to this spike in prices.
The RBNZ is the other major central bank to meet. Policymakers are expected to deliver a 50bp rate rise with the economy continuing to hum along. The bank needs to carry through with the hikes it has signaled or risk letting inflation pressures get out of control. But there are some signs of anecdotal evidence pointing to a softness in activity. Watch out for some potential action on the NZDUSD with 0.6200 acting as a key point of interest.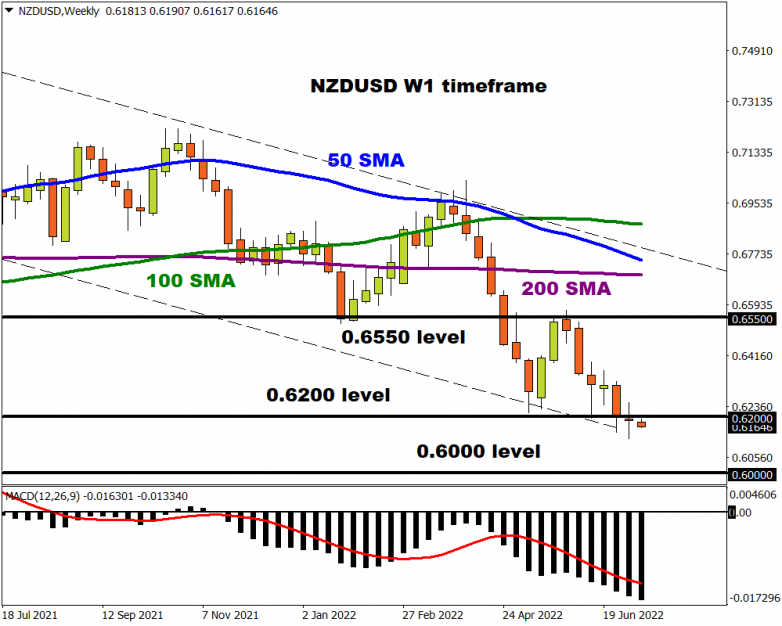 The last day of the trading week brings with it China second quarter GDP. Consensus sees this data reflecting the contraction of activity due to Covid lockdowns. Recent activity figures and fewer lockdowns should signal a recovery in retail sales.