We are well into the heart of the summer and many traders are away from their desks, no doubt taking some well-earned rest and recuperation away from their screens after the previous few months' price action and volatility. Markets are still in thrall to the conundrum around "peak inflation", the pace of monetary policy tightening, and the risks of a full-blown recession, or not.
There will be no shortage of data releases this week to keep us fixated, though thin liquidity may mean whippy and knee-jerk reactions leave us scratching our heads at some of the price moves.
Monday, August 15
JPY: Japan 2Q GDP, June industrial production (final)
CNH: China July industrial production, retail sales, jobless rate

Tuesday, August 16
GBP: UK June unemployment rate, July jobless claims
EUR: Eurozone August ZEW survey expectations
USD: US July industrial production
Walmart Q2 earnings

Wednesday, August 17
NZD: RBNZ rate decision
GBP: UK July CPI
EUR: Eurozone 2Q GDP, unemployment
USD: FOMC minutes, US July retail sales
US crude: EIA weekly oil inventory report
Tencent 2Q earnings

Thursday, August 18
AUD: Australia July unemployment
EUR: Eurozone July CPI (final print)
USD: US weekly jobless claims; speeches by Kansas City Fed President Esther George and Minneapolis Fed President Neel Kashkari

Friday, August 19
NZD: New Zealand July external trade
JPY: Japan July National CPI
GBP: UK July retail sales, August consumer confidence
CAD: Canada June retail sales
Hot on the heels of the softer US CPI report, we get more reports on consumer prices from the UK and Canada. Whilst US data saw some respite in July, the same is unlikely to be seen for the UK, where CPI is seen rising further. In fact, continued rises in gas prices also mean that the peak is unlikely to be in until October where economists predict inflation topping 12%.
CPI represents just one of several important releases next week out of the UK which include labour market figures where unemployment is expected to hold steady at 3.8%. Together these reports will provide important inputs into the Bank England's thinking over the outlook and the path of monetary policy. The cost of living is a critical issue in the UK and Friday's retail sales figures and consumer confidence data will inform on the current situation as well.
Looking further east, geopolitical tensions between China and Taiwan have grabbed the headlines following US House Speaker Pelosi's visit to Taipei. But the health of the Chinese economy will be in the spotlight with the usual monthly run of figures on Monday, with the release of industrial output and retail sales. These are likely to be depressed by Covid related lockdowns in big cities like Shanghai in July.
The RBNZ is set to hike rates again by 50bps at its meeting on Wednesday. Domestic inflation remains strong even though there are some signs that demand is cooling. The bank's projection for the cash rate will be key and if it remains similar to the previous projection from May. There may be some volatility here as markets have moved to price in a lower peak for rates and an earlier start to interest rate cuts.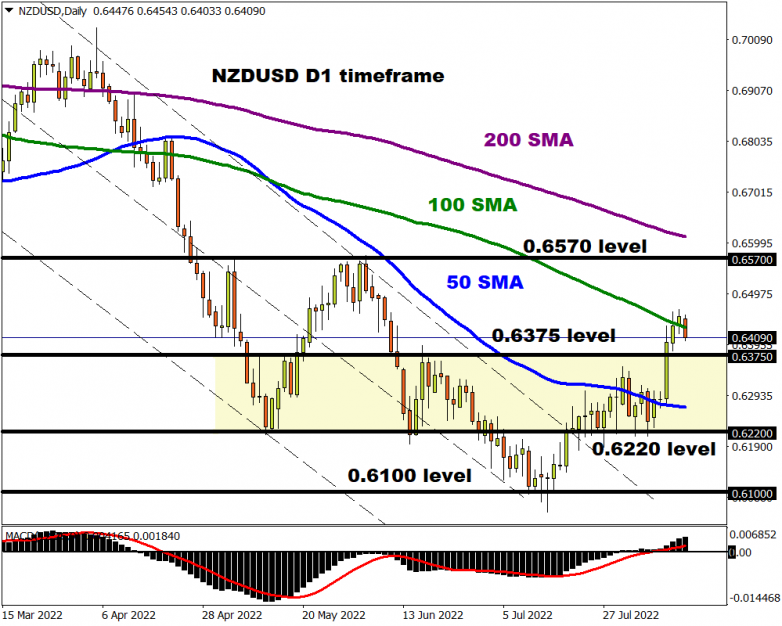 US stocks markets delivered a fourth straight week of gains for Wall Street, which is the longest streak since late 2021. The S&P 500 and tech-heavy Nasdaq indices are up 18 and 24 per cent respectively since their lows hit in mid-June. Expectations for the Fed's benchmark interest rate level have fallen back to 3.5% by year end. Fed speakers will be worth paying attention to, ahead of the next week's Jackson Hole symposium which has historically sparked volatility in markets. There still appears to be quite a disconnect between what the Fed is saying and how markets are reacting.