It could be a relatively quiet day for markets as everyone takes a breather and speculates about what will come out of the Fed's annual symposium at Jackson Hole in Wyoming.
Of particular interest is Fed Chair Powell's keynote speech, scheduled to deliver remarks on the economic outlook, on Friday at 14:00 GMT.
The event has historically been seen as a platform for Fed officials to signal its policy intentions and potential changes in the months ahead. Indeed, some market watchers regard the conference as an unofficial policy meeting.
There's no doubt central bankers will be under the spotlight after Powell used his speech last year to suggest price pressures in the US economy would be "transitory". Fast forward twelve months and inflation everywhere has hit multi-decades highs.
Much of this is perhaps not to do with central bank policy, but those driving the decisions are increasingly being subject to more scrutiny as populations suffer with a severe cost-of-living crisis.
PMIs point to stagflation
In the meantime, we got a barrage of business activity surveys yesterday, in the form of the widely watched S&P PMI data. The dollar sold off relatively sharply to a big slump in the US services sector. It hit a 27-month low of 44.1 in August, down from 47.3 the previous month. A reading below 50 denotes a reduction in business activity.
This suggests the decline worsened this month rather than easing as economist had predicted.  The manufacturing index also dropped more than expected, though it remains above 50.
Price pressures continued to ease but both input and output price grown remain at elevated levels.
This all points to an environment of stagflation, one which has high inflation and slowing growth.
It was notable that the eurozone PMIs were less bad than expected though still a toxic mix, and that certainly made the overbought dollar more vulnerable to some position-squaring ahead of Jackson Hole.
Powell is seen as hawkish
There are solidly hawkish expectations for Powell's speech on Friday.
We will see if the bar has been set too high and a "buy the rumour, sell the fact" type of price action is seen. The crowded long dollar trade was exposed by the soft data yesterday and a similar reaction will be evident if Powell doesn't stick to his July tightening message at a minimum.
The previous high in the DXY at 109.14 was breached yesterday, with 109.21 now serving as immediate key resistance ahead of the 110 psychological barrier.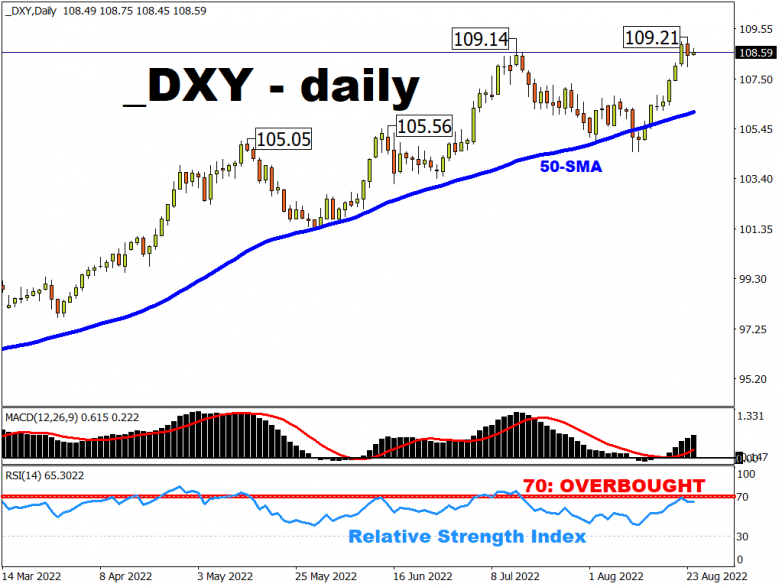 The euro is by far the biggest component of the dollar index and posted a new multi-year low just a few pips above 0.9900.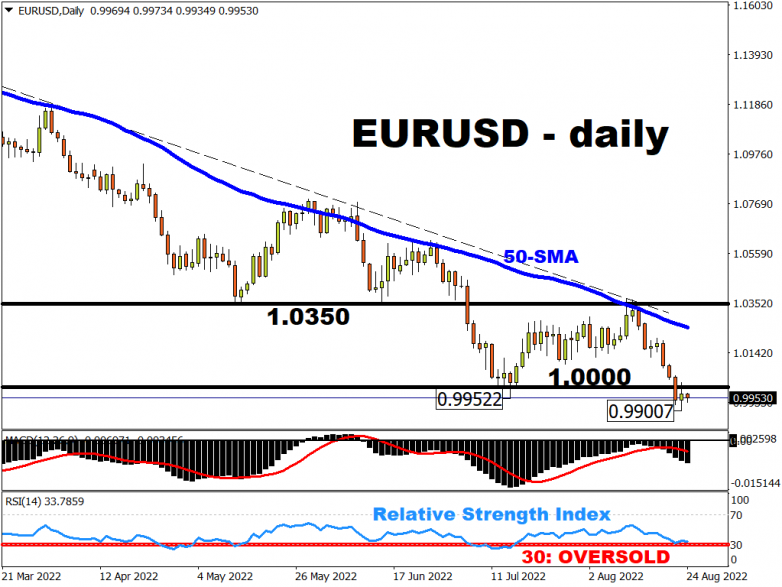 All eyes and ears are on the great outdoors in Wyoming and what clarity we get about the Fed's hiking and quantitative tightening intentions.