Stock markets are losing ground Tuesday morning. Asian indices are down more than 1%, and US stock futures came under sustained selling pressure visible on the intraday charts. For the Asian markets, this is the worst drop in two months, which says a lot about how bullish the market has been since November.
During the US trading session on Monday, indices underwent a sharp sell-off on news of potential roadblocks to the 1.9 trillion stimulus package. That dip was quickly redeemed, allowing the S&P500 and Nasdaq100 to close the day higher. The Dow Jones was unable to recover its losses fully and is down again today, recording its fourth consecutive session of declines.
European markets are losing much more modestly than Asian markets after a nearly 2% sell-off the day before. For the moment, it is difficult to talk about increased fear spreading in the markets, as they are still within the trends established in recent months. In many cases, they test their trading ranges' limits but do not draw any lines in the sand.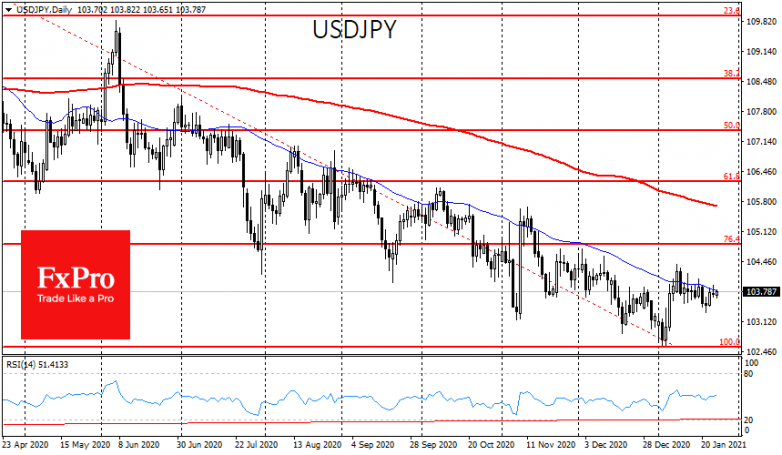 USDJPY has been fighting off attempts to break above its 50-day average almost daily for the last three weeks. Since last April the pair has steadily remained below this line, which confirms the USD's downtrend.
A sharp jump above the 50-SMA could signal other markets to start a large correction of USD losses. That said, it would be unwise to rush in against the trend beforehand, without proper trend reversal signals.
Similarly, EURUSD is hovering around its 50-SMA and is constantly threatening to fall below it and break the uptrend. So far it has only managed to correct one-third of the recent bullish momentum since November. Without supporting signals, it is too early to discuss breaking the upward momentum.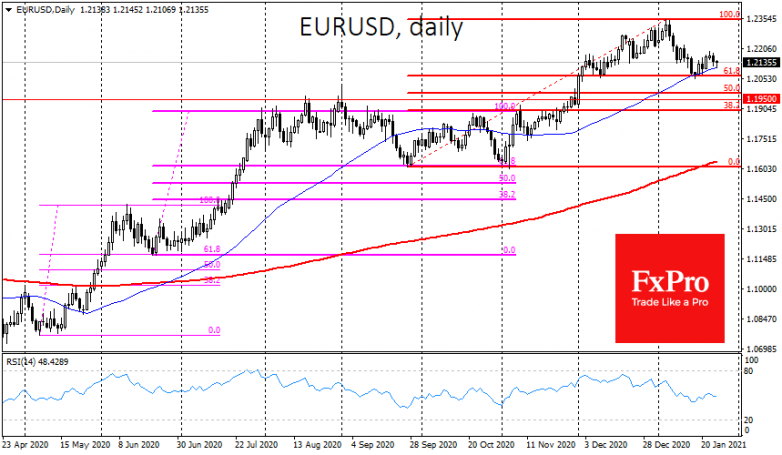 At the end of last week, we pointed out that market performance is almost like a simulation of how bad things could be without support from the Fed and stimulus from the White House. The timing of this is spot-on, i.e. on the eve of the Fed meeting and in the early days of Yellen taking office.
How much genuine fear is in the market will be judged on its reaction to the FOMC decision. Until then, it is premature to draw any clear conclusions.
The FxPro Analyst Team