Inflation is becoming an increasingly hot topic in macroeconomics, having more and more of a direct impact on market performance. According to preliminary German estimates, annual CPI growth accelerated last month to 1.3% – the highest level in 11 months. Inflation hawks are likely to pay attention to the 0.7% rise in prices for February after jumping 0.8% and 0.5% in the previous two months. That is a 2% jump in three months.
The price increase comes despite a 9% EUR to USD rise and approximately the same gain against the trade-weighted basket.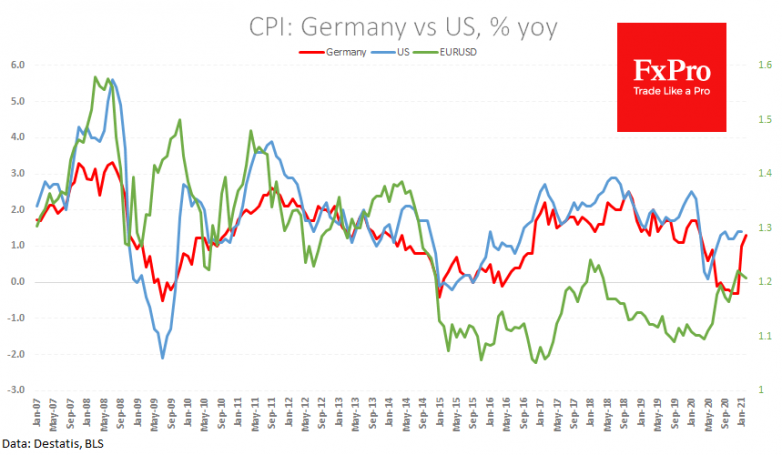 Price pressures are unlikely to decrease in the coming months, given the end of the tax cut period because of the coronavirus. Also, there will be a simultaneous low base effect (price collapse a year earlier) and a reasonably robust rise in business activity.
Interestingly, the jump in inflation in the Eurozone has coincided with slippage in EURUSD, which can easily be explained by promises on both sides of the Atlantic not to change rates in the foreseeable future. Accelerating inflation, in this case, is not a sign of economic strength but a threat to the purchasing power of the currency until there are signs of a monetary policy reversal on the horizon, which is unlikely to be soon.
The FxPro Analyst Team