Oil prices are showing clear signs of rally exhaustion after doubling in price since November. Oil growth has stalled, unable to make new local highs against a very favourable external backdrop. Such slippage is an early signal of a possible correction. Given the extremely positive macroeconomic and geopolitical backdrop for Oil, a period of weak performance could prove to be a good time for long-term oil buyers, with an upside potential to reach $80 in a year.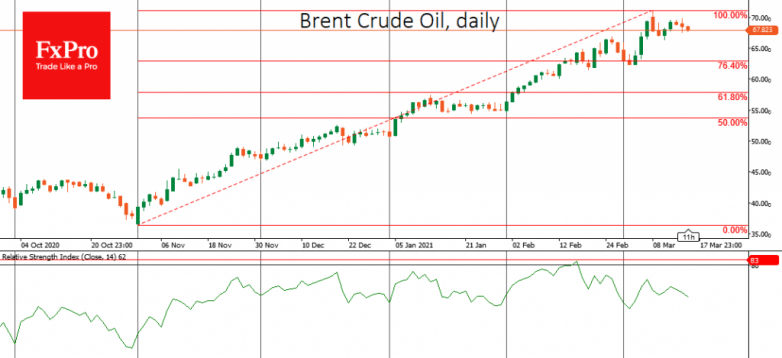 Brent prices peaked at $71 at the start of trading last Monday, the highest since May 2019. However, the price had lost more than 5.5% by the close of that day, falling back to $67, which was an important indicator of bearish strength. Too many traders took the chance to sell Oil at highs.
Later last week, we saw Oil's timid attempts to return to growth on the back of increased demand for risky assets. But the bulls did not manage to push Brent above $70.
A similar picture is seen with US WTI. The March 8th surge to $68 was the high point of its recent rally before a bearish attack pushed the price back to 63 for the following three days. It is now trading at 64.7, pressure for the third consecutive trading session, despite a strong macroeconomic backdrop.
Data from the US, Europe, and China show an increase in manufacturing activity, which is rising at its sharpest rate in years. Meanwhile, in financial markets, regulators are struggling to keep interest rates extremely low. At the same time, vaccines continue to do their job, causing a significant drop in hospital admissions in the US and UK.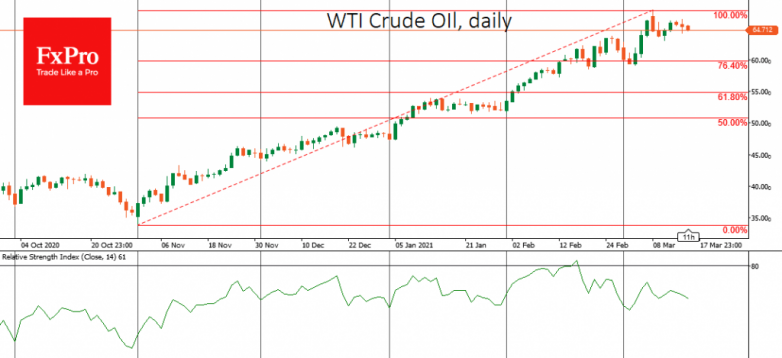 The macroeconomic picture reflects the global and long-term course to the $70-80 area. But upside potential does not rule out fairly painful short-term corrections.
Since around the middle of last month, the RSI indicator started to indicate extreme overheating in oil prices. That didn't stop the upward trend but cooled it somewhat. And last week, we witnessed a peak in Oil that will probably remain for the coming weeks.
The RSI index moved into the neutral territory from the overbought area, which often precedes a correction in an instrument. Potentially, the nearest targets for correction are the levels of $63 per barrel for Brent and $60 for WTI. However, Oil is so overheated that deeper correction targets of $55-57 for Brent and $52-55 for WTI are very likely.
The FxPro Analyst Team