The tanker blocking the Suez Canal provided much-needed help for oil, stopping a sell-off and restoring growth. Thanks to the tanker incident, the price received support on the downside towards 60/bbl Brent.
On the tech analysis side, oil received a bullish signal. Yesterday's recovery came after the price fell below the correction level of 76.4% from the November-March rally. Together with that, it returned to the area above the 50-day moving average, confirming its commitment to the upside trend.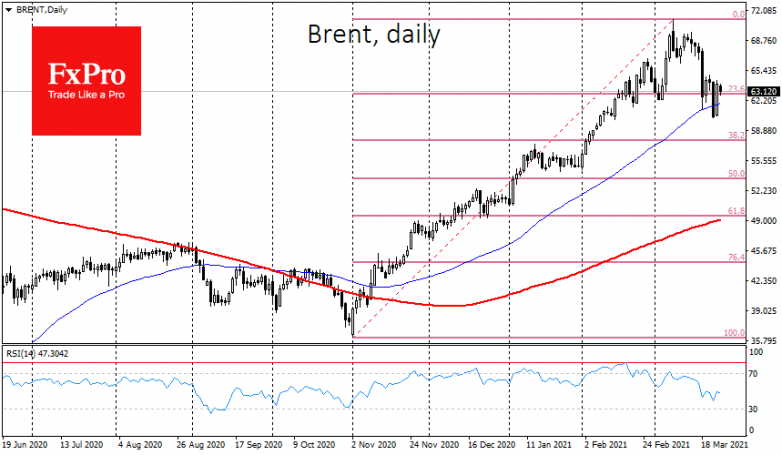 It is very interesting how developments with oil will unfold after the channel is unlocked. The optimistic scenario suggests that the Suez Canal incident has knocked the sellers off their feet. Having retreated from multi-month highs, oil no longer looks overheated and possibly rebooted after the rally and is now ready for further gains.
Interestingly, the almost 7% rise in oil prices over the day yesterday coincided with increased pressure on equity markets and was accompanied by a 2% fall in the Nasdaq. Generally speaking, this could be a trend for many months and even years to come.
During the deflation of the dot-com bubble, oil and other commodities boomed from early 2001 to 2008. The first two years passed despite falling stock markets. Worse, rising oil and different commodity prices have revived fears of tighter monetary policy.
But there is also a pessimistic scenario. Prices above $60 a barrel look a far cry from the depressed levels at which they were twenty years ago. These levels could be prohibitive for a global economic recovery that is just gaining momentum. It is clear that OPEC quotas artificially inflate current prices. It is only a matter of political decision when quota reinstatement will proceed and price pressure reinstalled.
The FxPro Analyst Team