Markets are dominated by caution at the start of the week. Asian markets are retreating by 1.1% on the MSCI Asia-Pacific ex-Japan, while the Nikkei225 is losing 0.6%. However, markets are resilient on the outlook, drawing attention to a 7% jump in Alibaba shares after a record $2.75bn fine from the regulator. Analysts, on average, expect that this fine could draw a line under a string of harassment and investigations of the big e-commerce marketplace.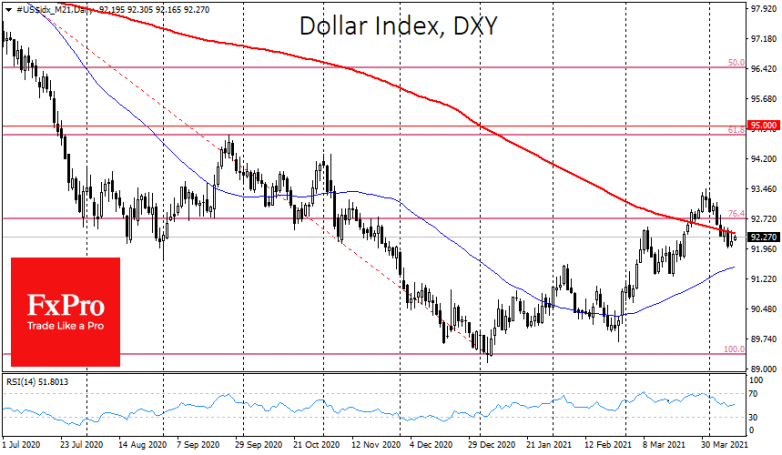 The dollar index is adding 0.1% after a similar rise on Friday. The dollar index closed below its 200-day average last week, a bearish signal for the US currency. However, short-term traders might want to stay away from the action as the tug-of-war between the bulls and the bears nears an important level.
The US Treasury will offer plans to float $271 billion in bonds this week, with 96 billion in 3-year and 10-year auctions on Monday. Abundant placements often trigger inflows into the dollar as investors sell other securities and currencies to buy US securities.
From April 1st, the US Treasury paused issuance, which explains the dollar's pressure earlier this month and the increased buying of stocks, as money flowed into risky assets rather than defensive treasury bonds.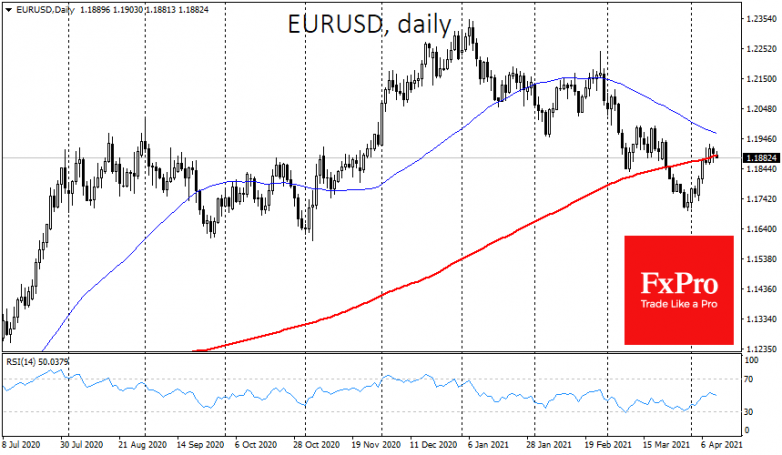 It is logical to expect some pullback in US markets from historical highs and an increased pull in the dollar today. But a strong dollar rally would bring the DXY back above its 200-day average and might send the EURUSD back below its 200-day average. This would be followed by a more substantial buying of the US currency, and we could talk about the potential for further dollar gains in the coming weeks.
Interestingly, this week the quarterly earnings season for US companies kicks off. So investors will have to make an unambiguous and clear choice between defensive bonds and risky assets. This could prove to be a telling dynamic for many weeks to come. Suppose there is no significant increase in the dollar today or tomorrow, and the markets manage to survive the big bond offerings relatively unscathed. In that case, the US currency pressure could increase considerably, giving the final signal for a downtrend return.
The FxPro Analyst Team