The EURUSD pair closed at Friday's closing level of 1.2075 by the end of the day on Monday, January 18. During the first half of the session, the price action dropped to 1.2054, then recovered to 1.2082 in the second half. The daily trading range was 28 pips. Market activity was low-key in observance of Martin Luther King Day stateside.
Right from the opening, the US dollar moved higher against most major currencies amid risk aversion. The Australian and New Zealand dollars came under pressure. Market participants are still digesting the latest coronavirus and vaccination developments. Government authorities are tightening lockdown measures in Europe, while people are staging massive protests against them.
The political crisis in Italy is dragging on. The Italian government, headed by PM Giuseppe Conte, won a crucial confidence vote in the Chamber of Deputies, the lower hours of parliament, on Monday evening. The upper house Senate, where the ruling coalition held only a razor-thin majority before the Italia Viva party pulled out, is scheduled to hold a confidence vote on Conte's government later today.
Today's macro agenda (GMT 3)
12:00 Eurozone: ECB monthly balance of payments (November)
13:00 Germany and Eurozone:  ZEW economic sentiment index (January)
16:30 Canada: wholesale trade (November) and wholesale sales (November)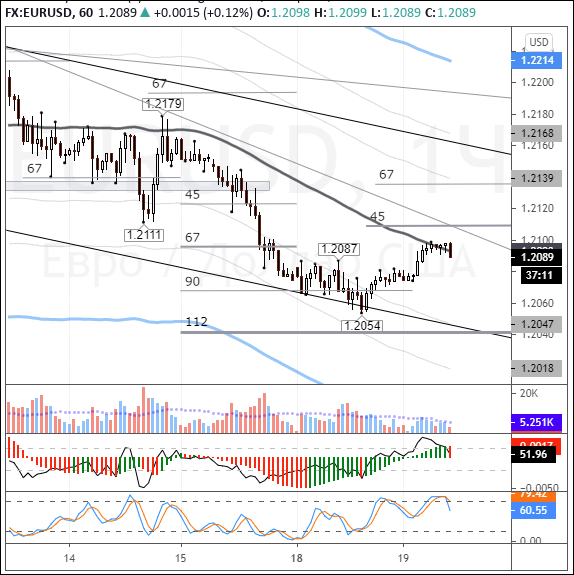 Current outlook
At the time of writing, the key pair was trading at 1.2094. In Asian trading, the dollar has been trading in the red, while the aussie ( 0.42%) and the kiwi ( 0.38%) top the leader board. Risk appetite rose on the back of an intraday rally in the Hang Seng, which surged 2.55% to 29,894. S&P 500 index futures are hovering in positive territory, which could exert a positive impact on all markets.
Meanwhile, markets are getting ready for Joe Biden's inauguration party on Wednesday. Market participants are wary, since there are 25,000 members of the National Guard on hand in Washington. The US stimulus package, the coronavirus saga and the US bond yield trends also remain in the spotlight. We believe that until the inauguration takes place, the markets will continue to gyrate in both directions. Hopefully everything will go smoothly.
The price action recovered to the lower bound of the balance line at 1.2095. The trend line is passing higher through 1.2108. Despite heightened demand for risk assets, euro crosses are showing multidirectional dynamics. If European FX players do not support the direction chosen by Asian participants, the euro will quickly retrace to 1.2075. No market-moving macro releases are due out today.