The EURUSD pair logged losses on Wednesday, April 7, down 0.10% to 1.1862. An upward spike in the pair to 1.1915 was driven by a rally in the EURGBP cross. There was no news behind a plunge in sterling. The cross picked up momentum on April 6 and drifted upward by inertia, putting pressure on the pound. As soon as the correction set in, the EURUSD rate fell by 54 pips to 1.1861.
The Fed minutes turned out to be a non-event, so they exerted little or no impact on the market. At the last meeting, FOMC members voted to keep rates close to zero and to continue purchasing bonds worth at least $120 bln each month. The Fed also raised its forecast for future economic growth and inflation. The average GDP forecast in 2021 was 6.5%, up from 4.2%, the figure given in the December median consensus. The unemployment rate could fall to 4.5% by year end, while inflation could rise to 2.2%, slightly above the Fed's conventional 2% target. The minutes also said that the risk of inflationary pressures has increased compared to the previous forecast, while it is still seen as balanced for the inflation forecast.
Today's macro agenda (GMT 3)
11:30 UK: construction industry PMI (March)
12:00 Eurozone: PPI (February)
14:30 Eurozone: ECB monetary policy meeting
15:30 US: initial weekly jobless claims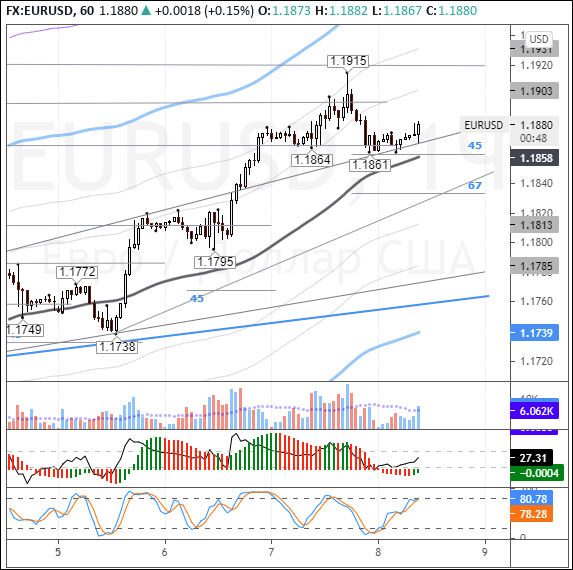 Current outlook
Major currencies have been trading in the green against the US dollar on Thursday morning. Antipodean currencies currently top the leaderboard, with the Australian dollar up 0.26% and the New Zealand dollar trading 0.31% higher. This trend points to higher demand for risk-sensitive assets, although they are correcting after yesterday's downturn.
Meanwhile, EURUSD was trading at 1.1881 at the time of writing. After dipping to 1.1861, the price action has been in a corrective phase for 11 hours. If the correction in the dollar picks up impetus with the opening of trading in London, then we may assume that the euro will continue to recover to 1.1895. Thus, traders will need to keep a close eye on the EURGBP cross, since in view of the daily pinbar, the euro's decline against the dollar and the pound could increase in line with profit-taking on long positions. On the daily TF, a pinbar or "evening star" ("bearish" setup, with a target of 1.1810) shaped up yesterday. The upper shadow of the candlestick is 41 pips, while the body is 10 pips. The nearest supports are located at 1.1860 and 1.1838.