Major currencies registered an uptick at the end of last week, except for sterling. The largest gains against the US dollar were seen in the Swiss franc ( 1.81%). Smaller gains were notched up by the euro ( 1.16%), the Japanese yen ( 0.94%), the Canadian dollar ( 0.42%), the Australian dollar ( 0.13%) and the New Zealand dollar ( 0.01%). Only the pound closed lower (-0.84%).
The euro shed 0.13% to 1.1898 by the end of the day on Friday, April 9. FX trading was subdued ahead of the weekend. The EURUSD pair was rangebound and moved in lockstep with the US 10-year Treasury yield.
Today's macro agenda (GMT 3)
12:00 Eurozone: retail trade (February)
17:30 Canada: BoC business outlook survey
21:00 US: monthly budget settlement (March)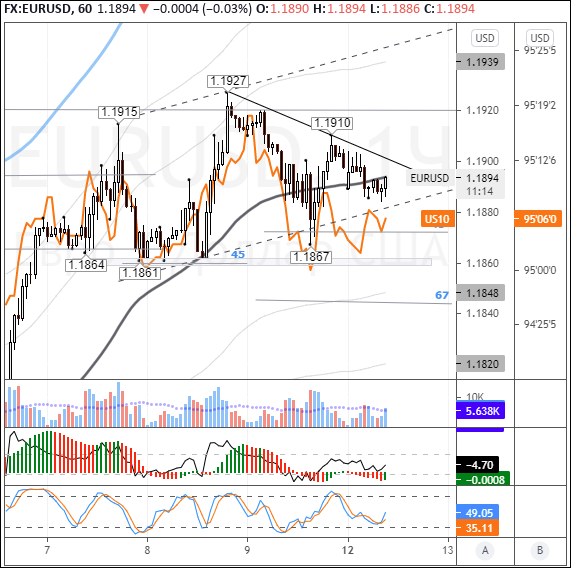 Current outlook
The greenback has been trading in positive territory against major currencies since the beginning of the Asian session.  UST yields are on the rise, so strength in the dollar could be ephemeral. Players are advised to focus on how European bonds trade today.
In crosses, the picture looks mixed in terms of dynamics, so it makes sense to keep an eye on EURGBP movement. After a lengthy winning streak, the pair could be entering a corrective phase. In this case, the pound will gain support, whereas the euro will remain under pressure. If dollar strength is still temporary during Asia trading, the EURUSD pair will continue to trend sideways near 1.1882. Support will be at 1.1860 and 1.1870. With the dollar depreciating and the EURGBP cross in decline, the euro could even strengthen to 1.1905.
There is another factor underpinning EURUSD dynamics, i.e. UST yields, which are currently attempting to move higher. When bond prices rise, yields decrease, and the 10-year Treasury yield now stands at 1.655%. A drop to 1.64% would boost demand for the euro. If the key pair breaks out of the 1.1905 mark, buyers will muster a move towards 1.1919.