The EURUSD pair closed higher on Monday, April 19, up 0.46% to 1.2036. The greenback tumbled to a six-week low against other major currencies, while the 10-year Treasury yield widened to 1.61%.
The dollar's downturn came in the absence of new flow as risk appetite arose out of the blue. The key driver for the FX market was sterling, which strengthened by 183 pips against the dollar from 1.3810 to 1.3993. The rally could be down to the lifting of lockdown restrictions in the UK (April 12), as well as a trade deal approved with the EU (April 15). Brussels is hopeful that this move will help strengthen the bloc's relationship with Great Britain.
Today's macro agenda (GMT 3)
23:30 US: API weekly petroleum report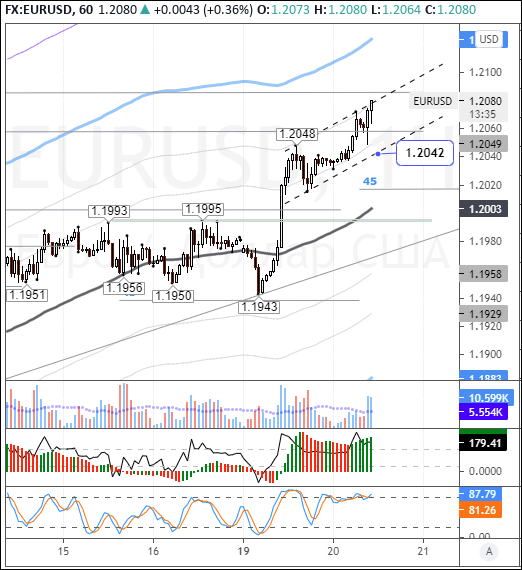 Current outlook
The euro rose to 1.2074 in Asian trading. At the time of writing, the single currency was changing hands at 1.2080. Since the fundamental reasons for the decline in the dollar index are unfathomable, there is no way to predict how active buyers will be today. Topping today's leaderboard are the aussie and the kiwi. The Australian dollar jumped after the release of minutes from the RBA's monetary policy meeting.
The pound resumed its ascent after stellar macro data points came out. The UK Office for National Statistics reported that the country's headline unemployment rate fell to 4.9% in February, down from the previous 5.0%.
On the hourly timeframe, the price action is forming tops along the U2 line (0.62% deviation from the 55-day simple moving average (SMA). The euro still holds room for upside, even though the price action points to an impending downward correction. The EURGBP cross is on the rise, so 4 or 5 tops could shape up with support from crosses.
Looking ahead, it makes sense to look for a reversal down to 1.2019 (45-degree angle) amid rising 10-year Treasury yields, which climbed to 1.63%. Gold buyers are rotating into US Treasuries. Both gold and UST yields are in decline, with the precious metal dropping from $1,790 to $ 1,765/oz. If yields turn upward, then major currencies will have to retreat as well.