Major currencies moved higher against the US dollar heading into the weekend. The steepest gain against the US dollar was seen in the euro ( 0.96%). Other outperformers included the Japanese yen ( 0.81%), the New Zealand dollar ( 0.74%), the Swiss franc ( 0.69%), the British pound ( 0.32%), the Canadian dollar ( 0.26%), and the Australian dollar ( 0.17%).
The EURUSD pair climbed to 1.2076 in European trading on Friday, April 23 on the back of positive manufacturing and service sectors PMIs out of Europe, including the UK. During the North American session, the intraday rally in the euro extended to 1.2100, with euro crosses on the buy side. Furthermore, the greenback remained under pressure throughout the session.
Today's macro agenda (GMT 3)
11:00 Germany: Ifo business climate, current conditions and expectations (April)
15:30 US: durable goods orders (March)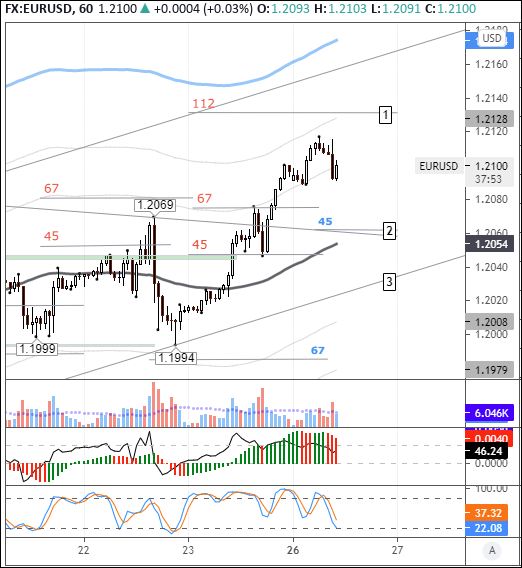 Current outlook
Trading in the major pairs opened to the upside on Monday, April 26. The leader board is topped by the aussie ( 0.27%), cable ( 0.20%) and the kiwi ( 0.15%). Asian players have been pricing in Friday's pullback in the USD during the North American session.
EURUSD peaked 1.2117 earlier this morning. At the time of writing, the euro was trading at 1.2091. The pullback picked up momentum amid a downward correction in the EURGBP cross pair. The euro halted gains at 14 pips below the 112-degree angle (1), which is today's resistance level. In our view, buyers are still in the mood to move up the ascending channel to 1.2162.
The support levels are currently at the 45-degree angle (2) and the trendline (3). Friday's price action was on a steady upward trajectory. For this reason, the odds are high on Monday that the pair will close in decline. The ideal scenario for the next two days would be a correction to the 45-degree angle of 1.2062 (2) followed by a leg up to 1.2131 (1).
Key news to watch for this week: FOMC meeting, Fed Chairman Powell's press conference, Q1 GDP data in the US and Eurozone, and China's manufacturing and services sectors PMIs.
Bottom line: Euro crosses are showing mixed dynamics. The single currency is losing support from the key EURGBP cross. Given that the euro trended higher throughout Friday and gained over 80 pips, the odds of seeing a correction before the close are elevated. Supports are at two levels: the 45-degree angle (2) and the trendline (3). After the correction, buyers should be ready to go back on the offensive and push for new highs (1.2130 and 1.2162) ahead of the Fed's rate decision on Wednesday.