The EURUSD pair closed with gains on Tuesday, April 27, up 0.04% to 1.2090. Buyers bounced off 1.2057 but failed to break out the of 1.2093 resistance level. Strong pressure on major currencies was exerted by the US fixed-income market ahead of the FOMC meeting and a speech by Fed Chair Jerome Powell. The 10-year UST yield retraced back up to 1.639%. Investors believe the Fed might drop a hint about tapering monetary policy.
Today's macro schedule (GMT 3)
12:00 Switzerland: ZEW and Credit Suisse investor expectations survey (April)
15:30 Canada: retail sales (February) and trade balance (March)
17:00 Eurozone: ECB President Christine Lagarde speech
17:30 US: weekly petroleum status report
21:00 US: FOMC interest rate decision and post-meeting statement
21:30 US: Fed Chair Powell press conference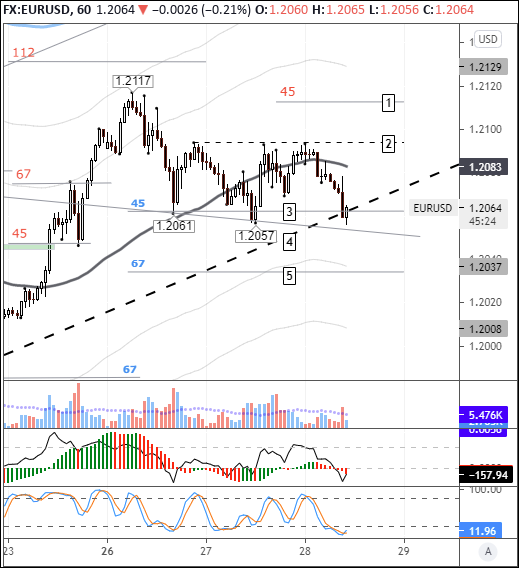 Current outlook
At the time of writing, the euro was trading at 1.2064. The price action retraced to the 45-degree angle (3) and the trendline (4). Since buyers were unable to break out of 1.2094, a strong resistance formed there (2). The euro bulls are losing momentum in the run-up to the FOMC meeting amid rising Treasury yields. If the trendline fails to hold, the price action will drop to 1.2035 (67-degree angle (5)). There was one breach as the price jumped above that line.
Today's European macro agenda is a blank slate, so speculators will zero in on Powell's speech. A volatility spike can be expected at 14:00 GMT during Lagarde's speech. In case of a favorable outcome for the euro, we expect to see the price action retrace to 1.2094. In case of a sharp rebound, a double bottom pattern will shape up, paving the way for buyers to reach 1.2113.
Bottom line: strength in the euro is held back by rising UST yields ahead of Powell's speech. The FOMC meeting is a key event for the FX market. A surge in volatility is expected at 18:30 GMT. Time will tell which way the euro will move after the rate decision, but investors are thinking that the US regulator might drop some tapering hints. If the euro bounces off 1.2056, buyers will gain the upper hand. If Powell talks up the greenback, the euro will experience a pullback.