The EURUSD pair traded higher on Monday, May 3, up 0.39% to 1.2063. During the North American session, the price rallied to 1.2076 from a low of 1.2013.
The US dollar fell against major currencies on the back of lower UST yields, as well as a lackluster ISM manufacturing report. The10-year US Treasury yield dipped to 1.582%.
US manufacturing activity grew at a slower pace last month, falling markedly short of market expectations. According to the Institute for Supply Management, the manufacturing index fell to 60.7% in April, down from 64.7% in the previous month (vs. the median consensus of 65%).
Looking at the sub-indices of the ISM Manufacturing PMI, the decline in two components raises red flags. The Employment Index fell to 55.1 from 59.6, and the New Orders Index fell to 64.3 from 68.0. In light of these misses, Friday's NFP report could undershoot the forecast of 988,000 jobs.
Today's macro agenda (GMT 3)
11:30 UK: manufacturing PMI (April)
15:30 Canada: building permits (March); US and Canada: balance of trade (March)
17:00 US: factory orders (March)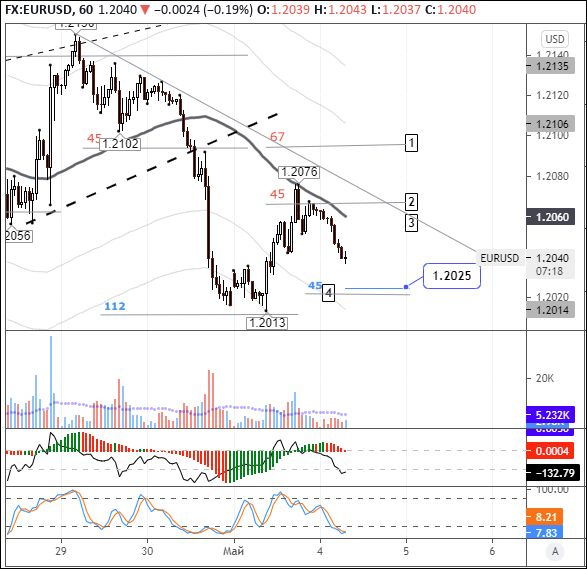 Current outlook
At the time of writing, the euro was trading at 1.2041. The price bounced off the balance line (55-day SMA). Yesterday's rebound came as a correction to Friday's decline. The main thing now is for buyers to prevent sellers from closing the hourly candle below 1.2025. As long as the price action hold above 1.2035, there is a chance we could see a three-wave correction of the model shape up with a target of 1.2095 (67-degee angle, 1).
A positive news flow and a drop in UST yields will be needed to reach 1.2095. The 10-year yield currently stands at 1.605%. Sovereign bonds are trending sideways after yesterday's gains.
Above 1.2040, the next resistance levels are at1.2059 (55-day SMA), 1.2067 (45-degree angle, 2) and 1.2077 (trendline, 3). Today's economic calendar is a blank slate for the euro. Buyers are unlikely to break out of the resistance level without some upbeat news. In our view, the ideal scenario would be a dip to 1.2025 followed by a rebound to the trendline (3) at 1.2060. 
Market participants are looking ahead to two US employment reports later this week: ADP and non-farm payrolls.
Bottom line: On Monday, buyers attempted to claw back Friday's losses, but met resistance at the 45-degree angle and the balance line. The recovery was underpinned by lower Treasury yields and a weakening US dollar.
In Asia, major currencies are trading in the red, with the euro in fifth spot. Since the economic calendar is blank for the euro, we could see a decline to 1.2025 followed by a rebound to 1.2060.