The EURUSD pair slid 0.28% to 1.2129 on Monday, May 10. The single currency came under pressure due to a decline in the EURGBP cross pair. Sterling locked in the strongest gains among major currencies even though the leader of the Scottish National Party (SNP) said another independence referendum was in the offing. SNP won the election, but failed to gain an absolute majority. PM Boris Johnson ruled out the possibility of another vote. By buying into the pound, market participants showed that they do not expect a new referendum on Scottish independence to be held.
A rise in the 10-year UST bond yield to 1.609%, as well as a decline in US stock indices triggered a correction in the dollar and major currency pairs.
The dollar experienced a sharp downturn after Friday's big miss in the April jobs report. The data showed an abrupt slowdown in hiring and an unexpected uptick in the unemployment rate. The reading reinforced the Fed's soft interest rate stance and bolstered confidence that the Fed will not rush into tapering.
Today's macro agenda (GMT 3)
12:00 Germany and Eurozone: ZEW economic sentiment (May)
17:00 US: JOLTS job openings (March)
17:30 UK: BoE Governor Andrew Bailey speech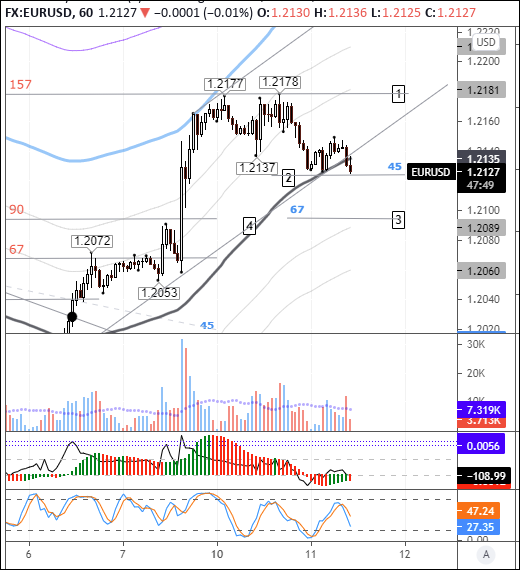 Current outlook
The single currency was trading at 1.2126 by the time of writing. The price action from the U3 line (55-day SMA 1%) retraced to the balance line (55-day SMA). The balance line was strengthened by the 45-degree angle (2) from the top of 1.2178 and the trend line (4).
That said, upside is capped by the selling of US sovereign bonds. Buyers need to gain a foothold above 1.2155 as quickly as possible. Breaking out of the resistance level would give them the strength to push the price action back up to 1.2170. All euro crosses are on the buy side and 1.2125 looks like a good spot for a rebound. The sooner the price action retraces to 1.2175, the higher the odds will be that the euro will continue to firm up to 1.2265.
Bottom line: the euro has corrected to the balance line after Friday's rally on far weaker than expected US NFPs. Given that the price action is current at the balance line (55-day SMA), the market is in a state of equilibrium, from which the pair could start to see new upward momentum with a target of 1.2265. The European news flow is low-key, so buyers will need to gain a foothold above 1.2155 as quickly as possible.