Major currencies showed multidirectional dynamics heading into the weekend. The steepest declines against the US dollar were shown by the Australian dollar (-0.76%) and the Japanese yen (-0.72%). In addition, the New Zealand dollar shed 0.42%, the euro dipped 0.15%, and the Swiss franc fell 0.11%. Only the Canadian dollar ( 0.24%) and the British pound ( 0.74%) closed higher.
The US dollar weakened against major currencies on Friday after reports that retail sales printed lower than expected in April, while concerns about mounting inflation eased. The euro also drew support from European macro data.
Stateside, retail sales were unchanged in April after a 10.7% rise in March, boosted by Covid stimulus checks. Investors expect retail sales to pick up next month as restrictions are lifted and Americans start spending their savings.
Today's macro agenda (GMT 3)
15:15 Canada: housing starts (April), 15:30 foreign securities purchases (March); US: NY empire state manufacturing (May)
17:00 US: NAHB housing market index (May)
17:05 US: Fed member Richard Clarida speech
17:15 UK: Silvana Tenreyro Bank of England MPC speech
17:25 Fed member Raphael Bostic speech
18:30 UK: Gertjyan Vliegh Bank of England MPC speech
19:30 Andy Haldane Bank of England MPC speech
23:00 US: foreign bond investment (March)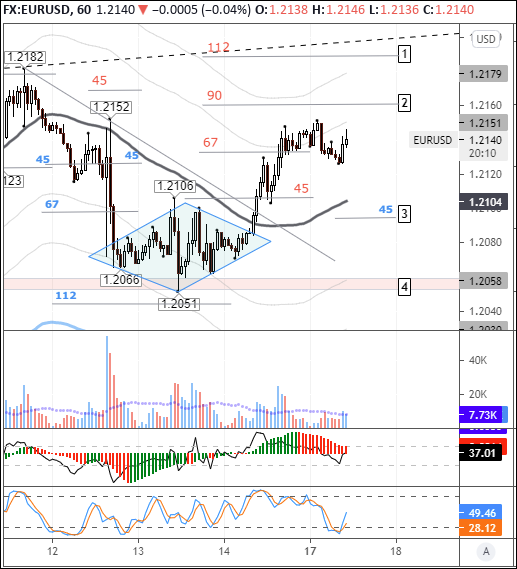 Current outlook
At the time of writing, the euro was trading at 1.2139. The price action slowed down at 1.2150. That said, the market remains poised to extend Friday's rally. Resistance is the range of 1.2175-1.2180. In line with technical analysis, the active phase of growth will come during the North American trading session on Tuesday or the European session on Wednesday. Buyers need to hold the 1.2105 level in order to retrace to the May 11 high of 1.2182.
Many speeches by heads and representatives of world central banks are slated for the first half of the week. It is hard to say who will say what, or how market participants will react. When there are many speakers, there is a risk of erratic upward and downward swings amid trendless trading.
Bottom line: buyers managed to bounce off 1.2050 and push the price action up to 1.2150. Today's European economic calendar is a blank slate, but many speakers are on the roster (Richard Clarida, Silvana Tenreyro, Rafael Bostic, Gertjyan Vliegh, and Andy Haldane). Monday trading volumes on Monday are usually below average, so buying activity is expected to pick up during Tuesday's North American session or Wednesday's European session. Resistance is in the range of 1.2175-1.2180. First of all, buyers need to gain a foothold there in order to extend the momentum towards 1.2250 and then 1.2300.