The EURUSD pair traded near the flatline on Monday, May 17, closing 0.03% higher at 1.2148. The pair reach an intraday peak of 1.2169 amid a weakening US dollar. Gains were held back by a decline in the EURGBP cross pair.
Sterling rose 0.27% to 1.4126, with gains driven by stage three in the lifting of lockdown restrictions as hotels, restaurants, and tourist facilities open up across the UK.
Today's macro agenda (GMT 3)
12:00 Eurozone: GDP, employment change (Q1), and trade balance (March)
15:30 US: building permits and housing starts (April)
17:00 UK: House of Lords economic hearing, with speeches by BoE Governor Andrew Bailey, BoE Deputy Governor for Monetary Policy Ben Broadbent, BoE Deputy Governor for Markets and Banking Sir David Ramsden, ECB President Christine Lagarde
18:05 SNB President Thomas Jordan speech
19:30 Fed member Raphael Bostic speech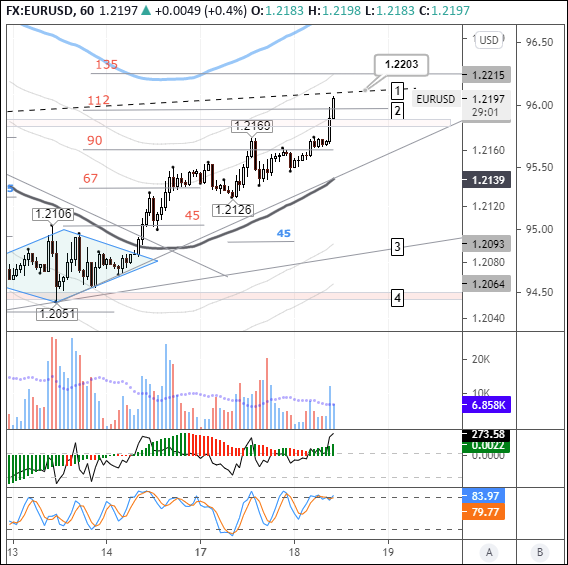 Current outlook
By the time of writing, the euro had surged to 1.2218, with the dollar broadly in retreat across FX markets. The leader board is topped by antipodean currencies – the New Zealand dollar ( 0.68%) and the Australian dollar ( 0.59%). The euro retraced earlier to a high of 1.2197. Buyers were able to break through the horizontal resistance of 1.2180 supported by the EURGBP cross.
After breaching the 1.2180 level, the price met new resistance at 1.2200 (1, the upper channel line), which consists of the 1.2150 (04/29/21) and 1.2182 (05/11/21) tops. After the price breaches the channel, the road to 1.23 will be open for buyers.
The key event stateside this week will be the FOMC meeting minutes due out on Wednesday.
Bottom line: in 71 hours, the euro rose in price against the dollar by 1.21%, to 1.2197. Buyers broke out of the 1.2180 horizontal resistance level amid dollar weakness. After the price holds above 1.22, the road to 1.23 will be open. A volatility surge is expected at 9:00 GMT after Q1 Eurozone GDP and employment data come out.