The EURUSD pair traded lower on Monday, May 26, down 0.46% to 1.2192. Buyers tried to hold 1.2230, but sellers breached this defense line amid a sharp upward reversal in UST yields. The yield on 10Y Treasuries jumped from 1.550% to 1.584%. The economic calendar was a blank slate, so market participants sought guidance from the 10Y yield to figure out which way the DXY was heading.
Today's macro schedule (GMT 3)
15:30 US: GDP (Q1), durable goods orders (April), weekly initial jobless claims
17:00 US: pending home sales (April)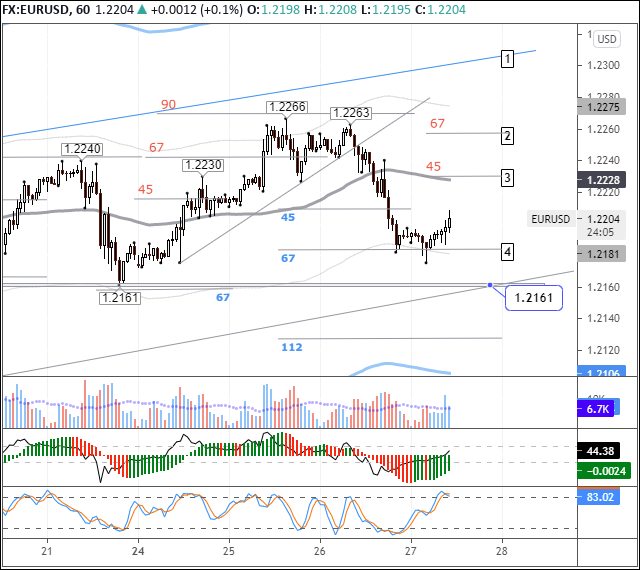 Current outlook
At the time of writing, the euro was trading at 1.2200. After the balance line was breached, the price action dropped to the 67-degree angle (4) at 1.2184. The key pair's decline was supported by the EURGBP cross, which reverted to a correction following a sharp rise on May 25.
In Asian trading, the euro fell to 1.2175 and rebounded to 1.2202. Major currencies are trading in positive territory. The New Zealand dollar still tops the FX leader board as demand for the kiwi is going strong after yesterday's RBZN meeting, at which the regulator hinted at a rate hike in September.
Uncertainty is compounded by the 10Y yield, which quickly recovered to 1.584%. The yield currently stands at 1.576% and is approaching a key resistance level. If 1.583% fails to hold, upside will continue to 1.608%. Strong yields translate into strengthening of the dollar and weakening of the euro to 1.2160.
The single currency is now supported by euro crosses, except EURNZD, so there is no reaction to the uptick in yields. From the technical standpoint, the pair looks set for a leg up to 1.2230 (3).
FX players are advised to focus on today's US Q1 GDP report. This data point will exert a powerful impact on the market if the first estimate is revised.
Also note that US inflation data is due out on Friday. Memorial Day, a national holiday in remembrance of American soldiers who died in all wars in the history of the United States, will be celebrated on May 31. We expect to see high volatility tomorrow ahead of the long weekend stateside.
Bottom line: EURUSD slid to 1.2183 amid an uptick in UST yields, while major currencies are trading in positive territory. Buyers are attempting to pare yesterday's losses ahead of the US Q1 GDP release. Technically, the pair looks set for a leg up to 1.2230. That said, price action is constrained by rising UST yields.
Heightened volatility is expected tomorrow on the back of core PCE prices and the Memorial Day long weekend.