The EURUSD pair slipped 0.13% to 1.2173 on Tuesday, June 8, with the pair trending sideways throughout the session. The bulls sustained major losses during Asian trading. The news flow was low-key for the euro, so market participants shrugged off a sharp decline in the 10-year UST yield to 1.513%.
Today's macro agenda (GMT 3)
17:00 Canada: BoC interest rate decision
17:30 US: EIA weekly petroleum status report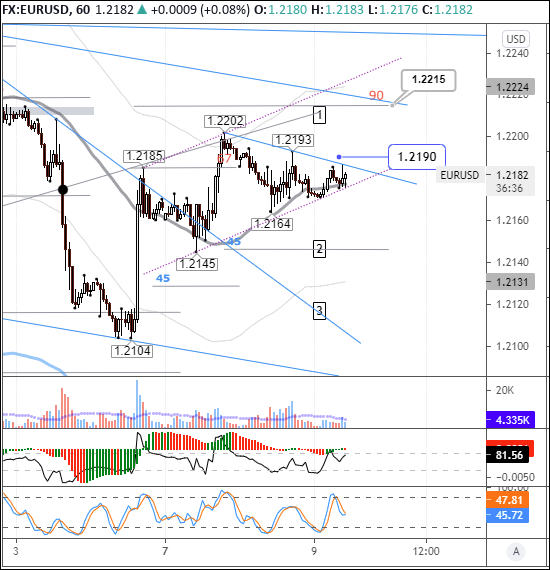 Current outlook
At the time of writing, major currencies were trading in positive territory. The euro was trading at $1.2177. Sterling topped the FX leaderboard. A rally in the GBPUSD pair may have been triggered by remarks from BoE chief economist Andrew Haldane. He said that the UK economy is going "gangbusters" and that it might be time to wind down stimulus. EURGBP fell to 0.8950 as the euro exchange rate decreased by 10 pips to 1.2177.
Since the DXY is in the red, and UST yields are weakening, today we expect to see EURUSD climb to 1.2215. Sterling has firmed by 20 pips and shows no sign of retreating, which bodes well for the whole FX market.
In order for EURUSD to move higher, the EURGBP cross still needs to reverse. The cross is now volatile after Haldane's remarks, so day traders in the key pair are not sure what to do. As soon as the bulls break out of the 1.2190 level, price momentum will accelerate to the upside.
Bottom line: the single currency closed mildly in the red on Tuesday. The bulls managed to hold the price action north of 1.2165. On Wednesday, major currencies have been on the rise against the dollar during European trading. The 10-year UST yield is declining. The stage is set for EURUSD to extend gains to 1.2215. That said, growth is constrained by a drop in the EURGBP cross in the aftermath of taper talk from chief economist of the Bank of England Andrew Haldane.