The EURUSD pair traded sharply lower on Wednesday, June 16, plunging 1.08% to 1.1994. Speculatively-minded day traders and investors sold off the euro after the FOMC meeting. The US regulator kept the target range for the federal funds rate at 0.00-0.25% and left the scope of the asset purchase program unchanged at $120 bln per month.
Dollar buying stepped up as the Fed dramatically raised its inflation expectations for this year and rolled forward the timeline for the next rate hike. The Fed upset investors by setting its liftoff forcast for 2023, earlier than expected.
Notably, 13 out of the 18 FOMC members voted in favor of at least one rate hike by end 2023 (up from 7 in March), while 11 out of 18 FOMC members forecast two rate hikes by the end of 2023. In addition, 7 out of 18 FOMC members predict a rate hike in 2022 (vs. 4 in March).
Powell noted that "the dot plots are not Fed policy". He continues to attribute the rise in inflation to "transitory" factors, but acknowledges that there is a risk that inflation could last longer than currently expected.
Today's macro agenda (GMT 3)
15:30 US: initial weekly jobless claims; Canada: foreign securities purchases (April)

17:00 US: CB leading index (May); Eurogroup meeting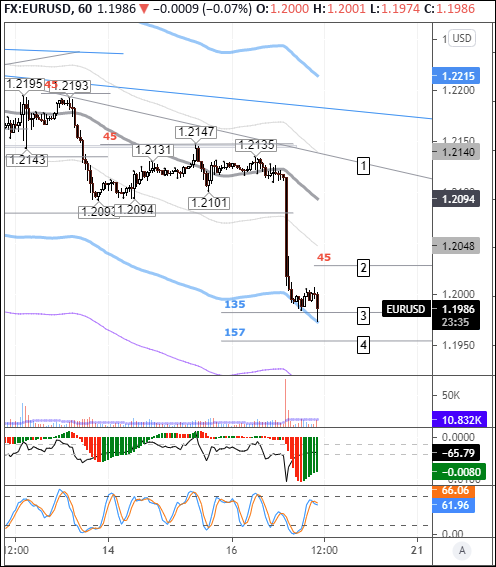 Current outlook
At the time of writing, the euro was changing hands at 1.1982. The bears pushed the price action down to a low of 1.1975. Major players should now digest yesterday's Fed dot plot to figure out which way prices will move. Yesterday's dollar buying was ruled by emotions, since nobody expected the tapering timeline to be moved ahead.
The body of the monthly candlestick is 1.95%. The June candle has completely covered the bullish body for May. If the month closes below 1.2031, a bearish engulfing candlestick pattern will form. In this case, buyers run the risk of ending up at 1.1815 in July.
The UST 10-year yield spiked to 1.581%. If the 1.59% level holds, the euro could experience an upward correction to 1.2058. Meanwhile, the kiwi dollar showed a nice bounce. It could act as a driver for other currencies before the North American session opens. Today's economic calendar is a blank slate. We advise players to keep a close eye on US10Y dynamics and the comments from Fed members.