The EURUSD pair traded to the upside on Tuesday, June 22, up 0.17% to 1.1937. A new leg of growth got under way during the first half of the session, starting from 1.1881. In the North American session, the key pair moved higher amid a decline in the DXY. After Fed Chair Jerome Powell's speech, the price action rose to 1.1953.
Powell confirmed that the сentral bank will refrain from rate hikes in order to preempt the surge in inflation. The regulator believes that inflationary factors will ease over time. These comments managed to appease the markets for a while.
Today's macro agenda (GMT 3)
10:15 to 11:30: manufacturing and services PMIs will be released in France, Germany, the Eurozone, and the UK (June)
15:30 Canada: retail sales (April); US: balance of payment (Q1)
16:00 Switzerland: SNB quarterly inflation report
16:45 US: manufacturing and services PMIs (June)
17:00 US: new home sales (May)
17:30 US: EIA weekly petroleum status report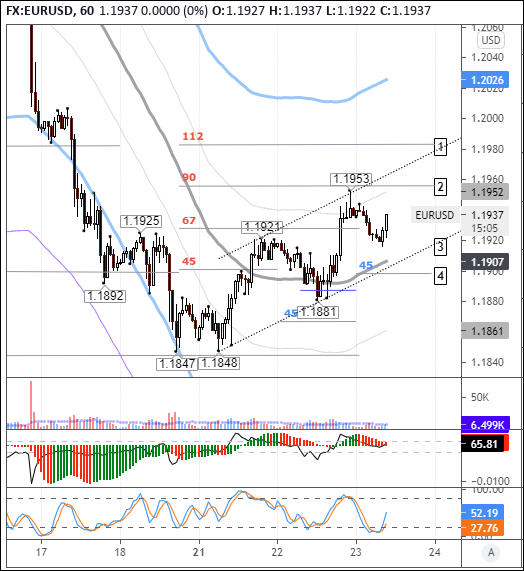 Current outlook
Major currencies have been trading slightly in the red in Asian trading, with EURUSD dropping to 1.1916. At the time of writing, the euro was changing hands at 1.1937. This morning looks like a repeat performance of yesterday. The technical picture on the hourly TF is favorable for extending gains. Given that Powell's speech drove the DXY down below 91.82, we could see a rally up to 1.1970-1.1985 (1).
Today's highlights include PMIs from EU countries. Strong readings would exert a positive impact on EURUSD dynamics. If the EURGBP cross continues to rally after the pullback, we could see a retracement to the psychologically important level of 1.20.