The EURUSD pair rebounded 0.38% to 1.1746 on Monday, August 23. The Canadian dollar topped the leaderboard in terms of profitability, up 1.40% against the US dollar to 1.2643. The Australian dollar rose 0.93% to 0.7205, the New Zealand dollar gained 0.85% to 0.6888, and sterling advanced 0.67% to 1.3711.
Dallas Federal Reserve President Robert Kaplan knocked the wind out of the dollar's sails on Friday, August 20. Kaplan said he may rethink his call to quickly start to taper if the Delta variant slows the economy.
On Monday, Australian Prime Minister Scott Morrison accelerated the dollar's downtrend by asking the states of Australia not to backtrack on the national plan to reopen the country.
Then came positive news from China. Chinese authorities have curbed a new wave of the spread of the pandemic. On Monday, no new Covid-19 were detected in the country.
During the North American session, experts widely discussed Kaplan's statements that the Federal Reserve may roll back stimulus tapering due to the Covid Delta variant.
Today's macro agenda (GMT 3)
17:00 US: new home sales (July), Richmond Fed manufacturing index (August)
23:30 API weekly petroleum inventory report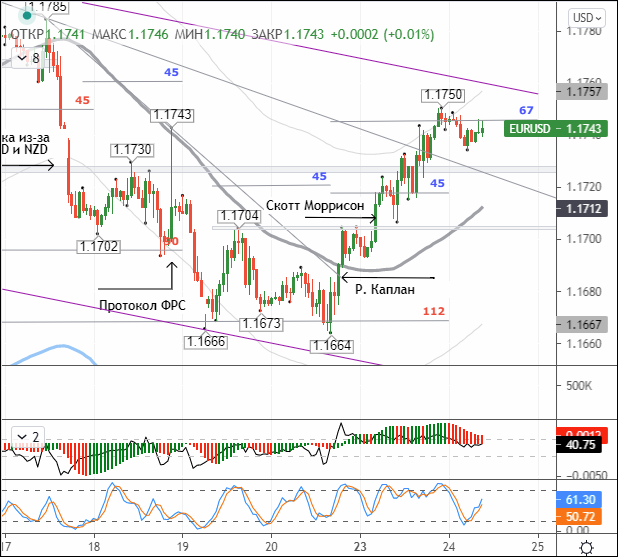 Current outlook
Heightened demand for risk-sensitive assets was again seen during today's APAC trading session, whereas the franc and the yen have been on the back foot. Topping the leaderboard are the aussie and kiwi dollars, which are apparently bent on winning back all of last week's losses before the Jackson Hole webcast.
The EURUSD pair displayed multidirectional gyrations yesterday in an upward trend, due to a decline in the EURGBP cross. First, the price action breached the 45-degree angle (1.1718), followed by the horizontal resistance of 1.1730, the trendline (1.1735) and then tested the 67-degree angle of the Gann fan (1.1746). The bulls are now making an attempt to reach the 1.1760 level. If upside in the Australian and New Zealand dollars stalls, the euro may revert to a downward correction at 1.1760. Notably, unless Fed Chair Powell lends support to the dollar at Jackson Hole, the euro could retrace to 1.1800.