We got more headline grabbing UK data this morning. April inflation figures have just been released and the headline came in a tick lower than expected at a red-hot 9%, the highest rate in more than 40 years. Soaring gas and electricity bills intensified the cost-of-living crisis facing households. This rate of consumer price inflation is almost double the rate the Bank of England expected only six months ago.
The BoE has already warned of double-digit CPI into Autumn with another energy price hike. But while there are plenty of upside risks to UK prices, economists say that certain goods categories will start to pull down the headline rate, even if further pressure in food and services is yet to come. Inflation is unlikely to dip below 8% for the majority of 2022. The key for policymakers in the MPC is that inflation is expected to fall below target by the end of next year, over the medium term.
Yesterday saw UK unemployment fall to its lowest level in nearly half a century. The jobless rate stood at 3.7% with fewer people out of work than there were job openings. This is the first time on record this has happened. The labour market is red-hot as well, though a wage-growth spiral is not expected. Indeed, the Bank of England does see the unemployment rate potentially rising above 5% over the next couple of years.
The pound has come back from the dead after yesterday saw it enjoy its biggest one-day since October 2020. Governor Bailey started the buying on Monday when he was more combative about fighting inflation than suggested by the May BoE policy meeting. The MPC had seemed more concerned around the grim growth outlook at that time. The strong labour market data further propelled more positive sentiment, though today's CPI data is seeing a small sell-off. It is quite something when an inflation miss of 9% disappoints!
Last week's low in cable at 1.2155 is an obvious line of support. That was seen on Friday. But the strong close saw a bullish engulfing candle. Trendline resistance was broken on Monday and prices are now back to early May consolidation. The high during that time near 1.2604 is resistance. Initial support is 1.2405.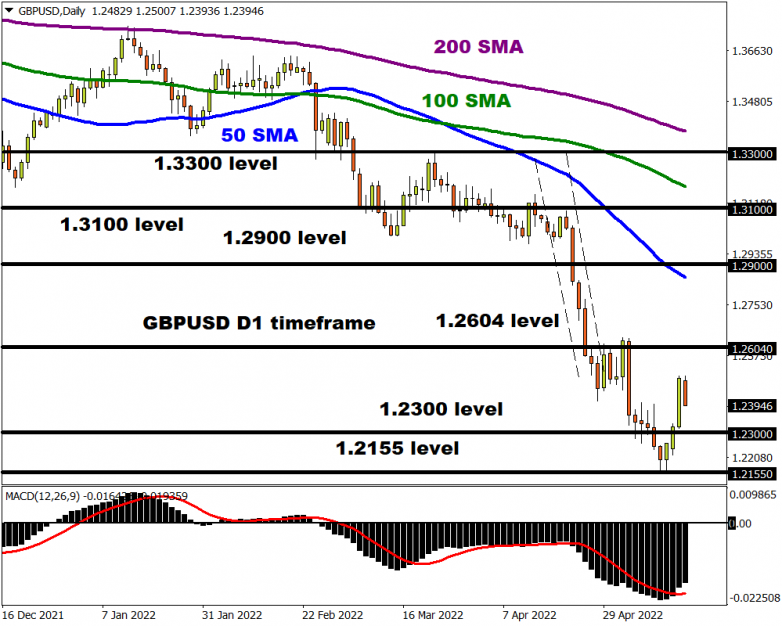 Elsewhere in the FX space, the rebound in risk sentiment and global equities has fuelled a widespread recovery in major pro-cyclical currencies versus the dollar. But Fed Chair Powell reminded us yesterday of the Fed's very hawkish mindset as he reaffirmed the market pricing of several similar sized rate hikes to the 50bp recent move, over the next few FOMC meetings. The bottom line is that differences in rates and growth are still pretty wide, meaning the greenback should remain underpinned.