Several Fed officials have signalled that the US central bank was committed to its aggressive fight against soaring prices, despite their supposed "pivot" last week to end of the tightening cycle and jumbo-sized rate hikes, as perceived by the markets.
Indeed, San Francisco Fed president Mary Daly, a well-known dove, said that the Fed was "nowhere near" done with its policy tightening in combatting the worst inflation in four decades.
The hawkish chorus also included the Fed's Evans who said that 50bps at the September meeting is reasonable, but 75bps could also be okay. The Chicago Fed president has tended to be very dovish in the past. With known hawk Mester adding to the rhetoric, the comments go against the sharp repricing of Fed hikes in recent week in bond markets. These moves reversed sharply yesterday, with the US 10-year Treasury yield bouncing off the 2.5% level to push back above 2.7%.
Greenback flourishes
The risk-off sentiment to kick off the week had initially given sellers of the dollar something to think about. Nancy Pelosi's visit to Taiwan triggered the ire of Chinese authorities and live-fire military drills over the next few days will keep markets on edge.
The yield surge has certainly shaken up markets after July's FOMC meeting saw investors begin pricing in a series of smaller rate increases later this year. Amid signs that the Fed's aggressive policy tightening has started to cool economic growth, focus will be on today's services ISM data. The PMI equivalent two weeks ago shocked by dropping below 50 and brings downside risks for the ISM which is expected at 53.5 from 55.3.
The DXY touched trendline support which also matched the 50-day simple moving average just below 105. Yesterday's rebound also took buyers above the mid-June high at 105.56.
We get more Fed speakers to listen out for today so potentially more verbal intervention.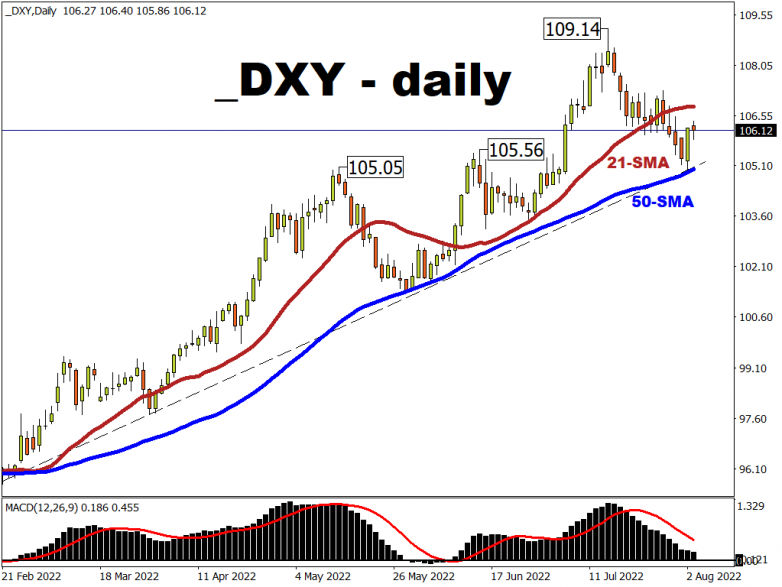 USD/JPY jumps back above support
USD/JPY is strongly correlated with US 10-year rate differentials, mainly due to the Bank of Japan's commitment to yield curve control.
This effectively means where the US 10-year Treasury yield goes, so too USD/JPY.
And those yields had fallen sharply as markets scaled back their expectations of how much the Fed will tighten policy to curb red-hot inflation. From a high close to 3.5%, the US 10-year yield dropped below the lower bound of the recent sideways trading range around 2.7% and got very close to 2.5%. This is a mighty fall in bond markets and had weighed heavily on USD/JPY.
The hawkish chatter from Fed officials as well as some relief of no overnight escalation in geopolitical tensions has seen safe haven demand, and yen buying, ease.
The 100-day simple moving average offered support at 130.26. In addition, the May high at 131.349 has held up prices. Near-term resistance is the 50-day moving average at 134.58 which has offered reliable support in the past.