Markets are still reeling from this past Friday's speech by Fed Chair Jerome Powell at Jackson Hole, where he simply underscored the determination of the world's most powerful central bank to tame rampant price growth.
Stocks sold off, while the benchmark US dollar index (DXY) climbed to a fresh 20-year high!
Still, this is not time to rest for global financial markets.
The new week brings potential for more volatility in the form of data and other risk events:
AUD: Australia July retail sales
UK markets closed

Tuesday, August 30
JPY: Japan July jobless rate
EUR: Eurozone August economic confidence, Germany August CPI
USD: US August consumer confidence, New York Fed President John Williams speech

Wednesday, August 31
JPY: Japan July industrial production, retail sales, August consumer confidence
CNH: China August PMIs
EUR: Eurozone August CPI, Germany August unemployment
EUR: Russian gas flow to Europe halted for 3 days due to Nord Stream pipeline maintenance
USD: Fed speak - Cleveland Fed President Loretta Mester, Atlanta Fed President Raphael Bostic
US crude: EIA weekly oil inventory report

Thursday, September 1
AUD: Australia August manufacturing PMI
CNH: Caixin China August manufacturing PMI
GBP: UK August manufacturing PMI (final)
USD: US weekly jobless claims, ISM August manufacturing

Friday, September 2
USD: US August nonfarm payrolls
The first Friday of the month brings the usual fresh update on US employment in the form of the non-farm payrolls report.
Consensus forecast a headline print of 300,000 jobs which would be a big drop from the prior blockbuster 528,000 July figure. But job gains still remain in expansionary territory and reflect a 20th straight month of growth.
If the data released is in line, then money markets may firm up the chance of another jumbo-sized 75 basis point hike for the September FOMC meeting. Fed Funds futures have moved from a coin toss (50/50 chance) to a 78% chance of a third-successive-75bps hike next month.
A further ramp-up of such odds, perhaps predicated by another strong showing in the US labour market that allows the Fed to press on with its ultra-aggressive stance, could see this equally-weighted USD Index return to its recent peak above 1.21.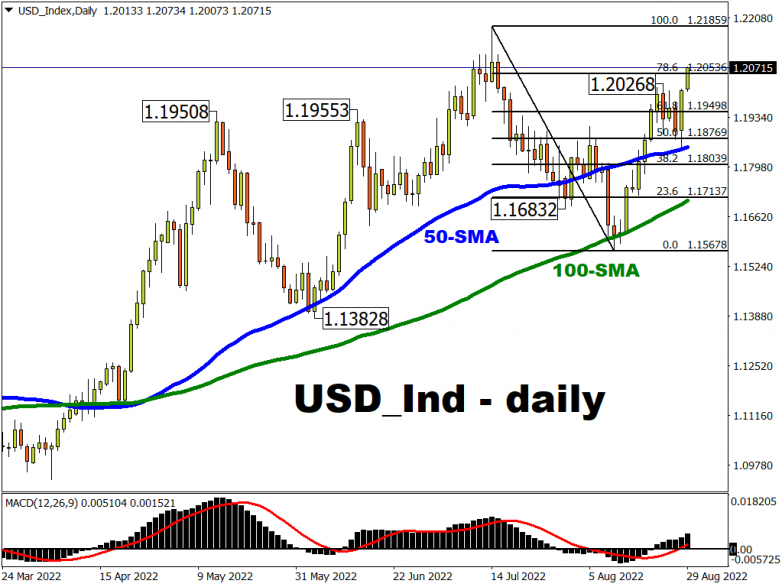 It's an important week too in Europe as soaring gas prices again grab the headlines.  
Wednesday's Eurozone inflation figures will go a long way to determining how far the ECB tightens policy at its meeting next week.
Adding to the negative euro sentiment is yet more (three-day) maintenance on the Nord Stream pipeline starting on the same day. German electricity prices rallied 40% last week as natural gas prices hit record highs.
Fears over whether the taps are turned back on and to what capacity are high.
An escalation in Europe's energy crisis would only compound its economic woes and worsen inflationary pressures, noting that the August headline inflation is forecasted to register a fresh record high of 9%.
Even if such inflation prints prompt the ECB into adopting larger-than-usual hikes, that may not be enough to save the beleaguered euro, which is trading around its lowest levels against the US dollar since December 2002.