Traders Stateside returned to their desk after Labor Day and have bid up their own currency.
The yen has been the market's primary target with the currency falling to a fresh 24-year low this morning.
The ever-widening policy differential between the Bank of Japan's yield curve control policy and the much more aggressive policy tightening path taken by the Fed is stark.
But most other major currencies are struggling against the greenback onslaught as FOMC rate expectations remain steadfast and Treasury yields tick higher.
Dog days for JPY
The yen's role as a safe haven is being called into question as the trade position of Japan continues to deteriorate.
The war in Ukraine has seen energy prices surge and given that Japan is a major net-energy importer, its terms of trade have collapsed. This huge negative income shock has been most obvious in the country's trade account which is now showing a deficit on higher energy costs. 
Typically, a safe haven currency will be backed by a strong trade surplus but the yen has seemingly lost that backing from trade in the current environment.
Technically, USD/JPY is severely overbought on numerous timeframes.
The next major upside level isn't until the August 1998 high at 147.67.
That means the rally may continue until the authorities in Japan intervene. We have heard familiar FX rhetoric from Japan's officials overnight, but former Ministry of Finance FX head Watanabe spoke against FX intervention and doesn't think the BoJ will raise rates just to stem the yen's declines.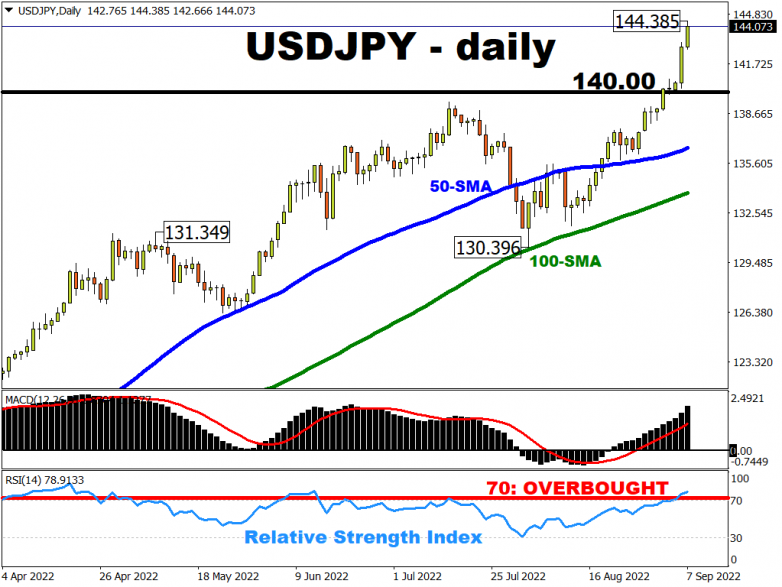 ECB to come to the euro's rescue?
The euro will be looking towards Thursday's ECB meeting for some support from a more hawkish rate decision and meeting.
Markets are pricing in a 75-basis point rate hike, but many analysts only see the bank moving by a half-point.
The hawks on the Governing Council have been out in force on the wires over the last few weeks while the doves have been relatively quiet. This is hardly surprising when one considers inflation is at record highs and it may go into double digits in the coming months. The recent shutdown of the Nord Stream pipeline only exacerbates this issue.
If the ECB doesn't match market expectations, we will see new cycle lows very quickly in EUR/USD. There isn't much support below recent levels until the mid to low 0.96s.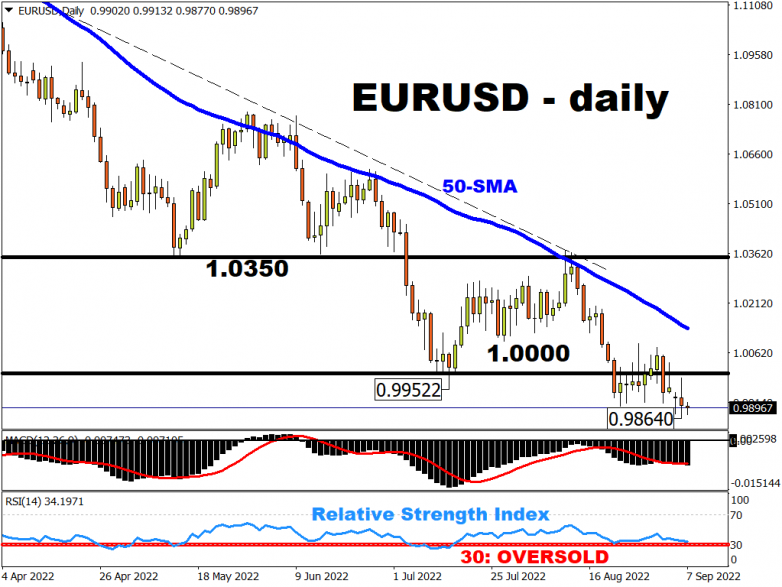 Loonie struggling versus the greenback and softer oil
Ahead of the ECB, we get the Bank of Canada rate decision later today.
The BoC is expected to hike rates by 75 basis points taking rates to 3.25%. This comes after July's 100bp surprise move.
Inflation remains too high, though economic activity has started to moderate. It is a statement-only affair, so we won't get too much colour. Rates will be moving into neutral/restrictive territory so the question on many traders' minds is whether there is still more policy tightening work to be done.
USD/CAD is finding support on dips.
The shooting star last Thursday will be negated if we break 1.3208. Above here is the July high at 1.32235, while support below comes in around the Spring highs around 1.307. 
It is always worth keeping an eye on Brent oil which is an obvious driver of CAD price action.
The global oil benchmark has formed a "death cross"
… with its 50-day simple moving average crossing below its 200-day counterpart, with such a technical even typically heralding further declines, even though prices are testing a crucial support region around $91/bbl.