The year-end central bank bonanza fires up this week with the final policy decisions of the year.
Note how global policy tightening has been arguably the most important driver of global financial markets for much of 2022.
The Reserve Bank of Australia and the Bank of Canada kick things off this week, before next week's blockbuster schedule which includes the FOMC, the ECB and the Bank of England.
Monday, December 5
CNH: China November Caixin services PMI
OIL: EU ban on Russian crude
EUR: Eurozone November PMI, October retail sales
USD: US factory orders, durablegoods, ISM services index
Tuesday, December 6
AUD: Reserve Bank of Australia rate decision   
EUR: Germany October factory orders, November construction PMI
Wednesday, December 7
AUD: Australia 3Q GDP
CNY: China November external trade
EUR: Germany October industrial production, Eurozone 3Q GDP (final)
OIL: EIA crude oil inventory report
CAD: Bank of Canada rate decision
Thursday, December 8
JPY: Japan GDP (final)
AUD: Australia October external trade
EUR: ECB President Christine Lagarde speech
USD: US initial jobless claims
Friday, December 9
CNH: China November inflation, PPI, money supply
USD: US November PPI, December consumer sentiment
Markets will be on tenterhooks and guided by these central bankers' decisions and guidance for the new year.
Such policy clues are set to continue influencing how these respective currencies perform in 2023.
AUDUSD nears "golden cross" ahead of RBA decision
The RBA is being given just a 60% chance of lifting its cash rate by "only" 25bps, moving it to 3.10% on Tuesday.
After all, note how the central bank had already slowed the pace of tightening at its October meeting back to quarter point increases, having raised rates at every monthly board gathering since May.
Also, the following points may support the case for a less-hawkish RBA:
The latest CPI print, for October, came in at a lower-than-expected 6.9%
 
External risks have intensified, as the Chinese economy loses steam, noting Australia's dependence on China.
The rate-sensitive AUD needs to be fuelled by further optimism surrounding China's economic reopening or a increasingly-dovish Fed, in order to push on towards its 200-day simple moving average (SMA) around 0.6915 where a key Fibonacci level also resides from its 2022 peak-to-trough.
As things stands, markets are forecasting a 44% chance of AUDUSD touching 0.6915 over this next one-week period, with a less-likely path (36% chance) to 0.6688 to test support around its 100- and 21-day SMAs which are on the verge of forming a "golden cross".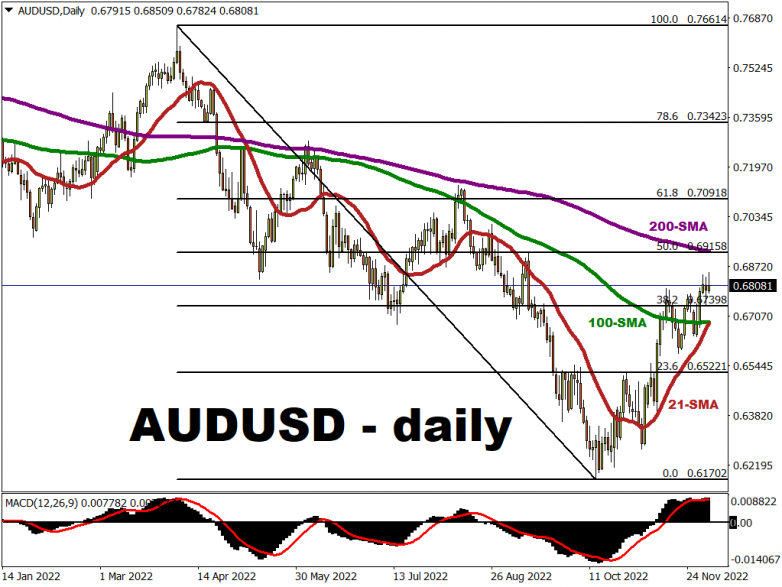 Will USDCAD respect month-long uptrend?
Markets are now forecasting a 34% chance that the Bank of Canada would stick with a second straight 50-bps hike on Wednesday.
On the other hand, the median estimate in Bloomberg's survey of economists suggest a 25-bps hike is the expected outcome.
After all, this central bank has already been "downshifting" since its gargantuan 100-bps hike back in July.
The slowdown in the housing market and high private debt levels are perhaps getting officials concerned, along with the flat preliminary GDP data for October.
However, last Friday's announcement of the November unemployment rate came in at a more-resilient 5.1%, versus market estimates for a higher unemployment print of 5.3%.
Overall, if policymakers' guidance suggest that we are very close to Canada's peak rate, that could weigh on the loonie.
Depending on how the US dollar holds up, a softer loonie could see USDCAD build upon its series of higher lows registered since mid-November, potentially retracing its way back above its 50-day SMA.
At the time of writing, markets are forecasting just about a coin toss chance (49.2%) that USDCAD can revisit its latest cycle high above 1.364 before 2022 runs out.
 
There appears to be a much likelier chance (74%) of the loonie testing support at its 100-day SMA around 1.33 by end-2022, using the same forecast model.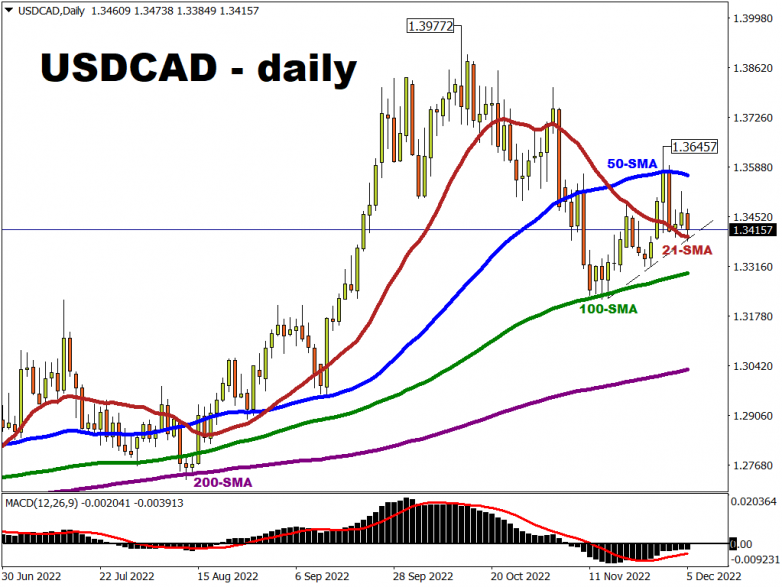 Ultimately, USDCAD's performance through year-end is set to depend heavily on what the Bank of Canada signals this week, followed by next week's pivotal Fed meeting and the US central bank's policy guidance for 2023.